WHO Encourages Mask Wearing On Long-Haul Flights
Authored by Mimi Nguyen Ly via The Epoch Times,
Countries should consider recommending travelers to wear masks in high-risk settings such as long-haul flights, a World Health Organization (WHO) official said on Tuesday, citing the rapid spread of the latest COVID-19 Omicron subvariant XBB.1.5 in the United States—even though nothing currently suggests that it brings more severe disease than previous strains.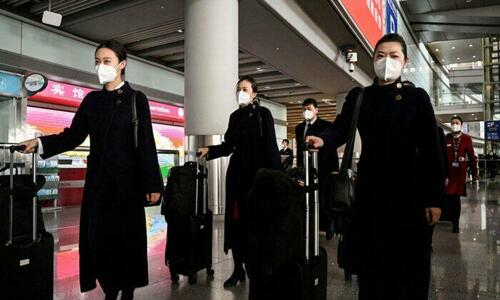 Mask wearing on long-haul flights "should be a recommendation issued to passengers arriving from anywhere where there is widespread COVID-19 transmission," Catherine Smallwood, the WHO's senior emergency officer for Europe, told reporters at a press briefing on Jan. 10.
In Europe, the XBB1.5 subvariant is being detected in small but growing numbers, WHO and Europe officials said.
"Countries need to look at the evidence base for pre-departure testing," and if action is considered, "travel measures should be implemented in a non-discriminatory manner," Smallwood said.
That did not mean the WHO recommended testing for passengers from the United States at this stage, she added.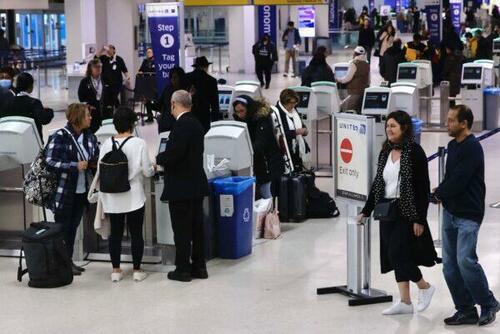 Passengers check in for flights at Newark International Airport, New Jersey, on Jan. 11, 2023. (Kena Betancur/AFP via Getty Images)
Measures that could be taken include genomic surveillance and targeting passengers from other countries as long as it does not divert resources from domestic surveillance systems. Others include monitoring wastewater around points of entry such as airports.
Her remarks come just weeks after Ashish Jha, the White House's COVID-19 coordinator, said during a recent discussion with the Philadelphia Inquirer that "no study in the world that shows that masks work that well."
Nothing currently suggests that XBB.1.5 brings more severe disease compared to previous strains of Omicron, an official from the Centers for Disease Control and Prevention (CDC) recently told CBS News. The WHO itself noted in November 2022 that the Omicron COVID-19 variant, although more transmissible, has, in general, caused less severe disease compared to previous COVID-19 variants of concern, such as Delta.
Most Transmissible Subvariant of Omicron
XBB.1.5 is considered to be the most transmissible Omicron subvariant detected so far in the United States, accounting for an estimated 27.6 percent of COVID-19 cases in the United States for the week ending Jan. 7, per CDC data.
XBB.1.5 is another descendant of Omicron, the most contagious and now globally dominant variant of the virus that causes COVID-19. XBB.1.5 is an offshoot of XBB, which was first identified in India in August and quickly became dominant in the country. XBB has also been responsible for the increase in COVID-19 cases in parts of Asia, including Singapore.
XBB is a recombinant of two subvariants that descended from the Omicron BA.2 subvariant. This means that genetic data from two versions of the virus that descended from BA.2 that had infected a person at the same time combined during the viral replication process to form the new XBB subvariant.
Concerns Amid China Opening Up
Concerns about XBB.1.5 fueling a new increase of COVID-19 cases in the United States and other countries come amid a recent surge of COVID-19 cases in China after the country pivoted away from its signature "zero COVID" policy in early December 2022. The draconian policy had been in effect for nearly three years.
China reopened its borders on Jan. 8, making it easier for Chinese citizens intending to travel internationally to do so and easier for international visitors to visit the country.
More than a dozen countries, including the United States, have since implemented policies requiring COVID-19 tests from travelers from China.
In Europe, the European Union Aviation Safety Agency (EASA) and the European Centre for Disease Prevention and Control (ECDC) on Jan. 10 issued recommendations for flights between China and the European Union, including "non-pharmaceutical measures to reduce the spread of the virus, such as mask-wearing and testing of travellers, as well as monitoring of waste water as an early warning tool to detect new variants."
The two agencies recommend "random testing may also be carried out on a sample of arriving passengers" and "enhanced cleaning and disinfection of aircraft serving these routes."
Last week, the EU's Integrated Political Crisis Response group (IPCR), a body made up of officials from the EU's 27 governments, also recommended all passengers on flights to and from China should wear face masks and random testing of passengers arriving from China.
According to data reported by the WHO in early January, an analysis by the Chinese CDC showed a predominance of Omicron sublineages BA.5.2 and BF.7 among locally acquired infections.
The WHO believes China has been underreporting deaths and hospitalizations from COVID-19 in the country. It acknowledges that the case definition of what counts as a COVID-19 death in China is narrow and "not necessarily the case definition that WHO has recommended countries adopt," said Smallwood.
Tyler Durden
Thu, 01/12/2023 - 12:40