Delayed Flights - The New Post-Pandemic Normal?
The outage of a Federal Aviation Administration system grounding thousands of U.S. flights Wednesday is just the latest in a string of events that have led to delays and cancellations in air travel lately.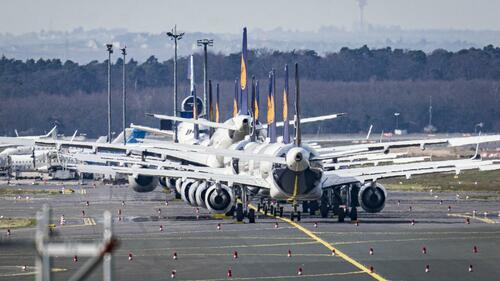 As Statista's Katharina Buchholz notes, looking at the share of major North American airline flights arriving late at their destination over the past years, a post-pandemic dip in punctuality becomes visible. 
Reports by Cirium show that while some airlines have kept it together more, others' on-time performance has virtually imploded.
You will find more infographics at Statista
Among the latter is Southwest Airlines, the biggest carrier with a majorly decreased punctuality score. While in 2019, only 18.6 percent of the airline's flights were delayed, 2021 and 2022 saw the airline be late around 26-29 percent of the time. Interestingly, the complete meltdown of Southwest's computer systems at the end of December – leading to droves of stranded customers and fliers separated from their luggage – did not create a worse score in 2022 than in 2021.
Other airlines where tardiness skyrocketed were low(er)-cost carriers JetBlue, Frontier and Allegiant Air, the latter hitting 35.4 percent delayed flights in 2021 and 34.1 percent in 2022.
Among the largest U.S. airlines, delays increased, but on a lower level. Delta Air Lines continued to be the most punctual carrier throughout the survey period, even though delays were somewhat up in 2022. Alaska Airlines and American Airlines also saw the share of delayed flights rise slightly, while United Airlines – only the seventh most punctual carrier in 2019 – improved its performance, landing in rank 2 of the most on-time airlines in 2022.
Tyler Durden
Thu, 01/12/2023 - 19:20