GOP-Led House Launches Probe Into Biden's "Absurd & Disgraceful" Botched Afghan Withdrawal 
The Republican-led House has launched a formal probe into the Biden administration's chaotic and deadly Afghanistan troop withdrawal operation and evacuation of August 2021, which is to be complete with issuing subpoenas for US officials to undergo depositions, in order to gain a clear picture of what happened and the botched decision-making. This as there's still yet to be any level of accountability for officials that oversaw the disaster.
The Hill reports Friday, "Rep. Michael McCaul (R-Texas), the chairman of the House Foreign Affairs Committee who served as its ranking member previously, said the Biden administration has so far refused to hand over documents but that he is now formally requesting compliance as chair of the panel."
McCaul blasted the White House, saying "It is absurd and disgraceful that the Biden administration has repeatedly denied our longstanding oversight requests and continues to withhold information related to the withdrawal."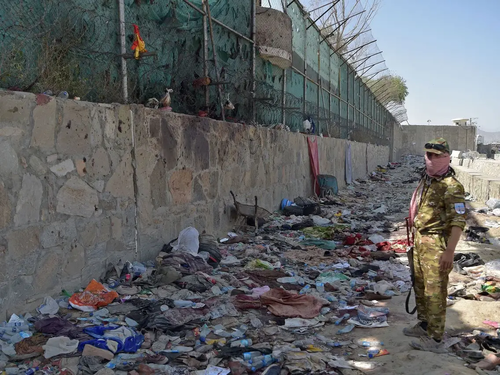 "In the event of continued noncompliance, the Committee will use the authorities available to it to enforce these requests as necessary, including through a compulsory process," he added.
A Thursday letter to Secretary of State Antony Blinken demanded the handing over of relevant intelligence assessments, and internal agency documents, as well as any communications with either the Afghan government or Taliban that occurred in the lead-up to and during the withdrawal.
It was among the most disastrous withdrawals from a foreign conflict theatre of US troops in American history, which closed a 20-year long. increasingly unpopular occupation. At the time, widespread comparisons were made with the April 1979 fall of Saigon and its images of American helicopters landing on the rooftop of the US embassy to evacuate desperate personnel and their families.
13 US troops died as a result of a terror attack targeting a gate at Kabul international airport. Additionally about 170 Afghans died, as they had been crowded up against the gate that US Marines were manning.
Other countries, notably China and Russia widely mocked the US and Pentagon for its handling of the Afghanistan pullout...
Here come the astonishing scenes from last year when crowds of Afghans chased a #USA military cargo plane as it took off, some even risked their lives to cling to the aircraft to flee #Afghanistan.pic.twitter.com/26MYotiAPJ

— Zhang Meifang张美芳 (@CGMeifangZhang) August 16, 2022
The world also witnessed shocking scenes of two Afghans falling to their deaths after they sought to grab a hold of the undercarriage of a departing US Air Force C-17, after Kabul airport security broke down and huge crowds swarmed the runways. The body of another Afghan was found in the aircraft's landing gear upon landing.
Tyler Durden
Fri, 01/13/2023 - 18:40