Market To Fed: The Economy Can't Handle Restrictive Rates For Long
Authored by Simon White, Bloomberg macro strategist,
The Fed is making overtures in the direction of easier monetary policy, bringing the central bank more into line with the market.
Inflation continued to slow in December, both headline and core. Falling inflation on its own leads to tighter monetary policy through rising real rates.
It is the expectation of falling inflation – that the data continues to confirm – that has been leading the market to price in deeper rate cuts than the Fed itself would like.
The market does not believe the economy is robust enough handle restrictive policy for very long.
The chart below shows expected real fed funds (fed funds futures minus CPI fixings from inflation swaps) and real fed funds according to the Fed's dot plot.
The Fed sees real rates as remaining restrictive for far longer than the market, resulting in a sizeable gap.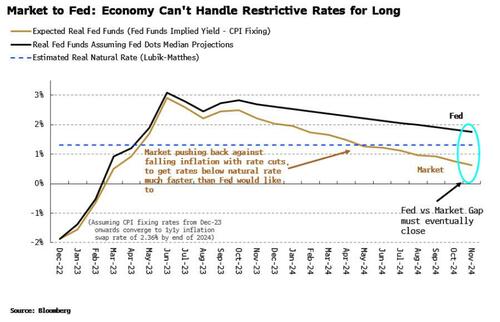 In a sign the Fed is perhaps getting the message, Patrick Harker, CEO of the Philadelphia Fed and FOMC voter this year, commented after the CPI data release that we don't need to "overdo" the monetary policy response and 25 bps hikes are appropriate going forward.
The gap between the Fed and the market's expectations must eventually close; the Fed is beginning to make the move.
Tyler Durden
Fri, 01/13/2023 - 07:55