Russia Sends Its Biggest Gun To Ukraine
Authored by Denes Albert via Remix News,
Russian forces, who have reportedly suffered considerable losses on the front line, have now deployed additional units of the world's most powerful mortar, which is capable of using a nuclear warhead on the battlefield.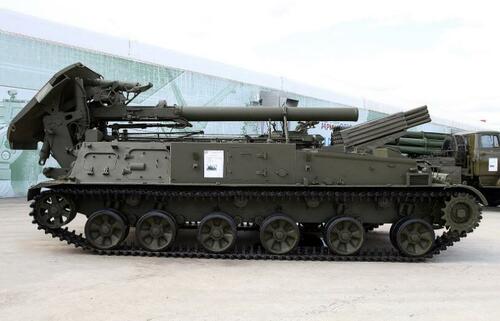 Dubbed the "Sledgehammer," the self-propelled 2S4 Tyulpan mortar, known as the Tulip in English, has a 240mm cannon — twice the caliber of NATO mortars, which are just 120mm — making it by far the largest caliber mortar system in the world. Carried on its own tracks, it has a range of 19 kilometers and is used to destroy large fortifications, military equipment, or strategic positions.
🇷🇺 2S4 Tyulpan en action. pic.twitter.com/2GDC0vUNHC

— Fulgur advenit (@GrillardEric) January 2, 2023
The 2S4 Tulip self-propelled mortar is capable of firing nuclear bombs, but this is likely to be limited to "micro-nuclear bombs" designed to destroy an area the size of a football stadium. It can also fire armor-piercing, laser-guided, and prohibited cluster munitions, as well as tactical nuclear bombs, according to Hungarian news outlet Ziare.
"It is a massive weapon, devastating when conventional weapons are used, capable of destroying a large area. But it would also make a very large target for Ukrainian artillery and drone crews, who hunt for offensive equipment on a daily basis," a security expert told the Daily Mirror.

"The mortar is capable of targeting an out-of-sight target with bombs that would be extremely difficult if not impossible to intercept," he explained.
Ukrainian forces have targeted the mortar system on the battlefield, and some footage from drone operators has shown a number of the weapons knocked out.
Minus one Russian 240-mm self-propelled heavy mortar 2S4 Tyulpan. A Russian heavy mortar burst into flames. The fire was extinguished, but the mortar was disabled. pic.twitter.com/b6bR12kd0w

— Paul Jawin (@PaulJawin) January 2, 2023
Developed during the Cold War, an initial batch of three vehicles was completed in 1969; it was immediately directed to a factory test program, which ended in October. The Tyulpan entered service two years later, and serial production began in 1974. The 2S4 Tyulpan was first seen by Westerners in 1975, so it was given the NATO designation M-1975, while its official name is 2S4.
Out of hundreds produced, Russia is believed to have only 40 to 50 still in operational service. However, Moscow is believed to have 400 units in storage and to be activating additional mortars to send to the battlefield in Ukraine.
Tyler Durden
Fri, 01/13/2023 - 03:30