Turkey Rages At Sweden, Summons Ambassador, Over Kurdish Group's Tweet
Turkey on Thursday summoned Sweden's ambassador to complain about issues related to the country's attempt at NATO ascension, at a moment Stockholm has lately admitted that Turkey is asking what it cannot give. 
This latest example of Turkey's anger is perhaps among the most absurd examples of Turkish overreach regarding its demands that Sweden clamp down on dissident Kurdish groups, given it involves a mere tweet and a group exercising free speech.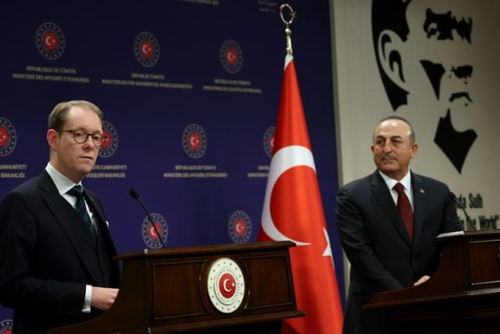 The offending tweet by a Swedish-based activist group called Rojava Committee of Sweden is described by AFP as follows: "A tweet by the Rojava Committee of Sweden on Wednesday compared Erdogan to Italy's Fascist dictator Benito Mussolini, who was hung upside down after his execution in the closing days of World War II."
And more provocatively the tweet included imagery of a dummy made to look like Erdogan swinging from a rope, continuing the Mussolini death comparisons. Apparently the group staged the "hanging" of the dummy on a street in Stockholm as part of a demonstration.
"History shows how dictators end up," the group wrote as part of the message. "It is time for Erdogan to resign. Take this chance and quit so that you don't end up hanging upside down on (Istanbul's) Taksim Square."
🇹🇷🇸🇪 Turkey summons Swedish ambassador as Kurdish group hangs puppet of Turkish President Erdogan in Stockholm . pic.twitter.com/0rbanl5Gd8

— SlowFlights (@FlightsSlow) January 12, 2023
Turkey's government is demanding severe action against the Kurdish activist group from Swedish authorities over the whole thing. While Sweden's foreign ministry condemned the video and tweet, this wasn't enough to satisfy Turkish officials, who want a legal crackdown by authorities against the Rojava Committee of Sweden.
"We urge the Swedish authorities to take necessary steps against terrorist groups without further delay," Erdogan's chief spokesman Fahrettin Altun tweeted. In response, Sweden's Foreign Minister Tobias Billstrom said Stockholm supports "an open debate about politics" but "distances itself from threats and hatred against political representatives."
"Portraying a popularly elected president as being executed outside city hall is abhorrent," the Swedish diplomat wrote. However, legally tweet is being interpreted in Sweden and Europe as protected speech, and there is unlikely to be any further action against the Kurdish group. Of course, Turkey under Erdogan hasn't been a fan of free speech for a number of years at this point.
Lately Turkey has demanded that Sweden go so far as to even change its laws related to speech and freedom of assembly in order to crack down on anti-Turkey Kurdish groups. But Swedish Prime Minister Ulf Kristersson has admitted that at this point regarding Ankara's stipulations to joining NATO, "We cannot meet all of Turkey's demands." 
Tyler Durden
Fri, 01/13/2023 - 04:15