UMich Inflation Expectations Plunge To 20-Month Lows
Once again, the most crucial aspect of the UMich sentiment survey is respondents' forecasts for inflation. After yesterday's 0.1% MoM decline in CPI, hope remains high that we are past peak inflation and this morning's UMich data seemingly confirms that as 1-year inflation expectations plunged to 4.0% (vs 4.3% exp), even though medium-term expectations rose modestly (to 3.0% from 2.9%). That is the lowest 1-year outlook since April 2021...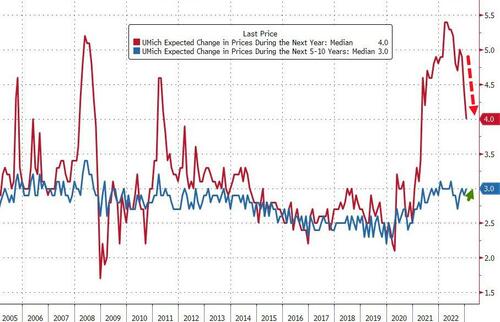 Source: Bloomberg
But once again, we remind readers that UMich itself admits the uncertainty around this forecast is extremely high...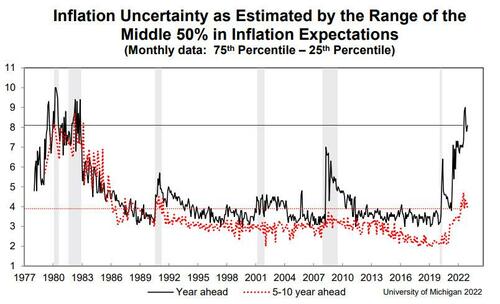 Back to the headline sentiment signals, UMich was expected to show a modest rise in confidence (led by improvement in current conditions offsetting modest weakness in expectations), and it did but the jump in sentiment was much more than expected, with Current Conditions soaring to 68.6 from 59.4 (60.0 exp) and Expectations rising from 59.9 to 62.0...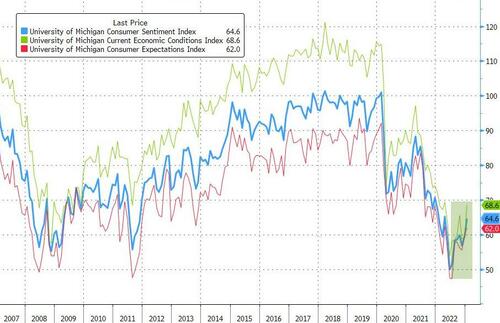 Source: Bloomberg
Buying Conditions improved for all cohorts...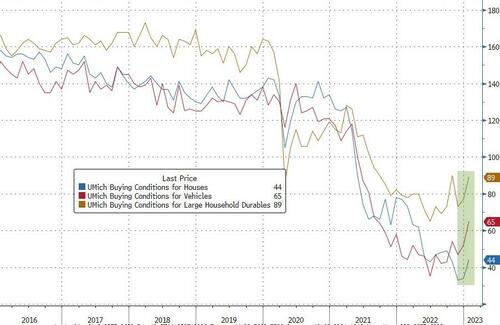 Source: Bloomberg
Current assessments of personal finances surged 16% to its highest reading in eight months on the basis of higher incomes and easing inflation.
Democrats' sentiment weakened in December (post-Midterms) while Republicans and Independents rose...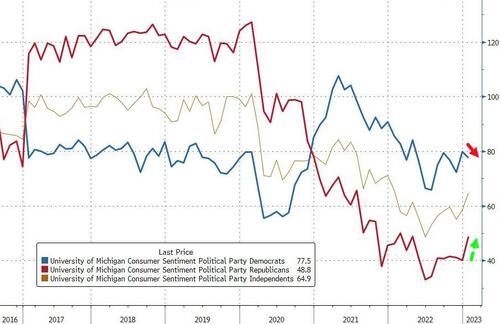 Source: Bloomberg
Although the short-run economic outlook fell modestly from December, the long-run outlook rose 7% to its highest level in nine months and is now 17% below its historical average.
Tyler Durden
Fri, 01/13/2023 - 10:08