"Unlike Anything We've Seen In Decades," BlackRock's Larry Fink Said In Internal Memo While Describing Volatile Markets
BlackRock, the world's largest asset management firm, reported an 18% decline in fourth-quarter profits on Friday, hit by a year of cross-asset contagion among stocks, bonds, and currency markets, but recorded positive stock and bond inflows via institutional clients in the quarter.
Most of BlackRock's earnings are derived from fees on investment advisory and administration services. When global stocks and bonds tumbled by 20% and 14%, respectively, last year, the result was the manager's assets under management also plunged. 
The New York-based firm's AUM dropped from $10 trillion a year ago to $8.6 trillion in the quarter, and revenue slid by 15% to $4.3 billion.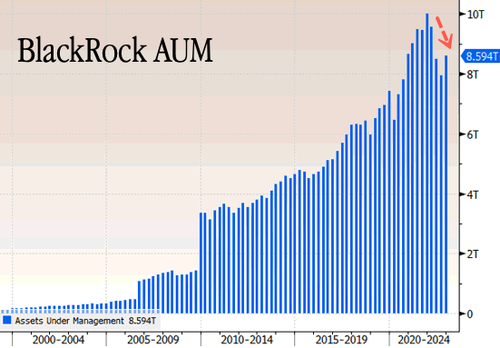 Full-year revenue fell by 8% "primarily driven by the impact of significantly lower markets and dollar appreciation on average AUM and lower performance fees," BlackRock said in a statement.
But there was some good news. The firm said $146 billion in long-term inflows were recorded in the fourth quarter, up from $65 billion in the previous quarter. When accounting for outflows, total net flows were $114 billion. 
Then there were layoffs. BlackRock slashed 2.5% of its headcount, or about 500 jobs, for which it incurred $91 million in restructuring charges during the quarter. 
An internal memo obtained by Financial Times revealed BlackRock's Larry Fink's thoughts about last year's tumultuous operating environment, saying it's "unlike anything we've seen in decades."
Tyler Durden
Fri, 01/13/2023 - 15:40