US Received More Than 500 UFO Reports, Many Cases "Unresolved"
Authored by Mimi Nguyen Ly via The Epoch Times,
The U.S. government has now collected a total of 510 UFO reports, according to the Office of the Director of National Intelligence (DNI), marking a relatively significant increase in recent months of such reports.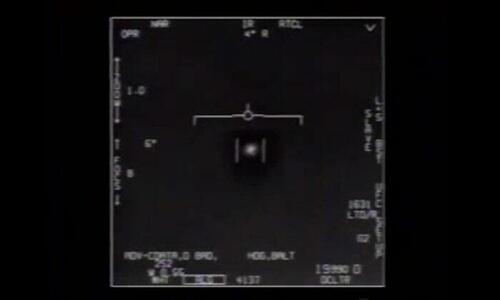 That's compared to 144 - the number of UFO reports confirmed in June 2021 in the DNI's preliminary assessment that covers reports of sightings in the 17 years spanning 2004 to 2021.
The updated figure of 510 is logged as of Aug. 30, 2022 in the "2022 Annual Report on Unidentified Aerial Phenomena," which was published Jan. 12.
It marks an increase of 366 reports in the 17 months since the preliminary assessment. That's 247 new reports, as well as 119 reports that were either discovered or reported late that fell within the original 17-year period but weren't included in the preliminary assessment.
The DNI on Jan. 11 delivered the annual report to Congress, as required by the the annual military funding bill—the National Defense Authorization Act for Fiscal Year 2022.
The increase in reporting of UFOs—or what the DNI calls "UAP" (Unidentified Aerial Phenomena—now Unidentified Anomalous Phenomena)—is "partially due to a concentrated effort to destigmatize the topic of UAP and instead recognize the potential risks that it poses as both a safety of flight hazard and potential adversarial activity."
Many Cases 'Unresolved'
The report states that while more UAP are being reported and sent for analysis, many cases "remain unresolved."
Most of the 366 new cases were reported by the U.S. Navy and U.S. Air Force aviators and operators while on duty. "Many reports lack enough detailed data to enable attribution of UAP with high certainty," the report reads.
More than half of the new 366 cases reported were initially judged as "exhibiting unremarkable characteristics," according to the report. These 195 sightings comprise 26 characterized as Unmanned Aircraft System (UAS)—drones—or "UAS-like entities;" 163 characterized as balloon or balloon-like entities; and six attributed to clutter.
The 171 remaining UAP reports are "uncharacterized and unattributed," the report states, adding that some of the uncharacterized UAP "appear to have demonstrated unusual flight characteristics or performance capabilities" and need to be analyzed further.
The DNI has been working with the All-Domain Anomaly Resolution Office (AARO), which was established in mid-July 2022 by the Pentagon to "detect, identify and attribute objects of interest" in all domains, including air, ground, sea, or space, to help address "any associated threats to safety of operations and national security."
According to the report, AARO is the "single focal point" for all efforts from the Pentagon regarding UAP. AARO is leading a "whole-of-government approach to coordinate UAP collection, reporting, and analysis efforts" throughout the Pentagon, the Intelligence Community, and other government agencies.
No Collisions, Adverse Health Effects Reported
While UAP "continue to represent a hazard to flight safety and pose a possible adversary collection threat," the increased reporting of such phenomena has enabled "a greater awareness of the airspace and increased opportunity to resolve UAP events," reads the report.
It notes that there have been no reported collisions between U.S. aircraft and UAP.
The report adds that there have been "encounters with UAP confirmed to contribute directly to adverse health-related effects to the observer(s)."
"Acknowledging that health-related effects may appear at any time after an event occurs, AARO will track any reported health implications related to UAP should they emerge," the report reads.
"The safety of our service personnel, our bases and installations, and the protection of U.S. operations security on land, in the skies, seas, and space are paramount," Pentagon press secretary Air Force Brig. Gen. Pat Ryder said in a statement, commenting on the UAP report. "We take reports of incursions into our designated space, land, sea, or airspaces seriously and examine each one."
Sen. Mark R. Warner (D-Va.), the chairman of the Senate Select Committee on Intelligence, said the 2022 UAP report "reflects a step forward in understanding and addressing risks to aviators."
"Overall, I am encouraged to see an increase in UAP reporting—a sign of decreased stigma among pilots who are aware of the potential threat that UAPs can pose," he said in a statement.
Tyler Durden
Fri, 01/13/2023 - 17:00