FDA Adviser Says Young And Healthy People Shouldn't Get Latest COVID Boosters
Authored by Jack Phillips via The Epoch Times (emphasis ours),
A vaccine adviser to the Food and Drug Administration is questioning whether young, healthy people should get new COVID-19 boosters, arguing those shots should be used for older individuals.
"I believe we should stop trying to prevent all symptomatic infections in healthy, young people by boosting them with vaccines containing mRNA from strains that might disappear a few months later," wrote Dr. Paul A. Offit, an FDA vaccine panel adviser and professor of pediatrics at the Children's Hospital of Philadelphia, in New England Journal of Medicine on Jan. 11.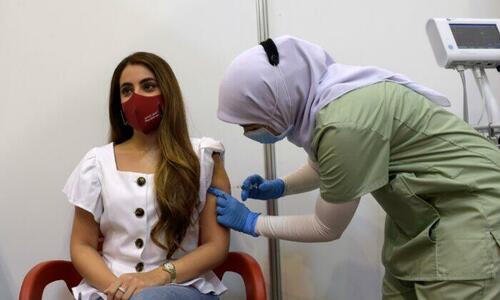 In his article, Offit cited two studies suggesting that bivalent boosters, which target the original COVID-19 strain and two Omicron subvariants BA.4 and BA. 5, do not "elicit superior immune responses."
"Why did the strategy for significantly increasing BA.4 and BA.5 neutralizing antibodies using a bivalent vaccine fail?" he asked. "The most likely explanation is imprinting. The immune systems of people immunized with the bivalent vaccine, all of whom had previously been vaccinated, were primed to respond to the ancestral strain of SARS-CoV-2. They therefore probably responded to epitopes shared by BA.4 and BA.5 and the ancestral strain, rather than to new epitopes on BA.4 and BA.5."
Offit noted that based on those studies, "boosting with a bivalent vaccine is likely to have a similar effect as boosting with a monovalent vaccine" but stressed that "booster dosing is probably best reserved for the people most likely to need protection against severe disease."
Another doctor appeared to agree with Offit's conclusions regarding "imprinting." Dr. Amesh Adalja, a senior scholar with the Johns Hopkins Center for Health Security, told U.S. News that "it may be that people's immune systems are so primed to respond to the ancestral strain spike protein that a reformulated booster is unable to fully stimulate the immune system because it has been 'imprinted' by the original version of the virus."
More Details
Data and studies have shown that older adults and people who have compromised immune systems are most at risk of developing severe COVID-19 symptoms, hospitalization, and death. Children, meanwhile, have long been shown to have the lowest chance of death, hospitalization, or developing severe symptoms since the pandemic started.
Both the Centers for Disease Control and Prevention (CDC) and FDA said that everyone over the age of 6 months get updated boosters at least two months after their last doses of the vaccine. The bivalent boosters were authorized under emergency use for children aged 6 months to 4 years on Dec. 9.
Meanwhile, a small number of Americans have received the updated boosters, according to the CDC. As of Jan. 4, some 15 percent of individuals aged 5 and older received the bivalent shots, while about 38 percent of adults aged 65 and older have gotten them.
That same CDC data also shows that about 80.9 percent of all Americans received at least one dose of a COVID-19 vaccine since they were rolled out two years ago, while 69 percent have completed their initial, "primary series."
An FDA spokesperson Abigail Capobianco responded to Offit's article this week, telling NBC News that Offit allegedly used "selective" data to reach his conclusions and that "we strongly believe that the totality of the available evidence continues to support the use of these vaccines in all age groups."
Read more here...
Tyler Durden
Sat, 01/14/2023 - 14:30