Finland Teases Battle Tanks For Ukraine After Poland, UK Lead The Way
At a moment Sweden and Finland are attempting to become NATO's newest members, though still blocked by Turkey's objections, Finland - which shares a border with Russia - is teasing the possibility of sending Leopard 2 battle tanks to Ukraine.
Finnish President Sauli Niinistö on Thursday said following the country unveiling its 12th planned defense aid package for Ukraine over the weekend: "The number of tanks [to be sent to Ukraine] cannot be large, since Finland borders on Russia and is not part of NATO." Finland is commonly estimated to posses some 200 Leopard 2 main battle tanks.
Ukraine has been urging for Western partners to transfer heavy Western-manufactured tanks, with its officials saying that it needs in total some 300 of them to defeat Russian forces.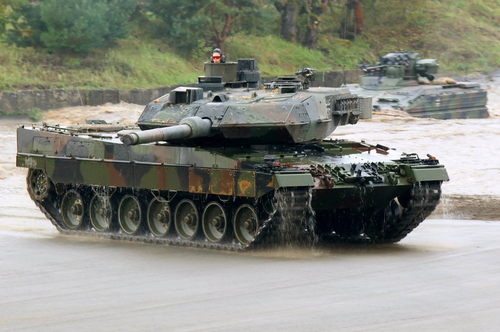 Poland and the UK have led to the way on this, but with the US so far only committing only lighter infantry carriers. France has also pledged 'light tanks' - which some say are not tanks at all.
There's growing pressure for other allies to follow Polish president Andrzej Duda, who first announced his country would send over a dozen German-built Leopards to Ukraine "as part of the building of an international coalition."
But there are still potential hurdles related to German export controls on its manufactured weaponry, as Politico describes: 
There are certain restrictions imposed on the re-exporting of the German-made Leopard 2 tanks. Berlin has so far been reluctant to send heavy German weaponry to Kyiv, even if it comes from another EU member state, but there could be signs of a thaw in its position on the issue.

...In response to Duda's comments, German Vice Chancellor and Economics Minister Robert Habeck, who also oversees arms export controls, dismissed concerns that Germany might not allow this. He said that "Germany should not stand in the way when other countries make decisions to support Ukraine, regardless of what decision Germany makes."
As for UK efforts to introduce 'game-changing' heavy tanks to Ukraine's arsenal, the FT reports: 
Britain is preparing to send its Challenger 2, a highly capable main battle tank. It would be the first modern western tank to be sent to Ukraine, but most experts say Ukraine would be better served by the Leopard 2. Thirteen European governments operate some 2,000 Leopards, providing a much larger pool for Kyiv to draw on.
And as for Finland, if it follows through on sending Leopard 2 battle tanks to Ukraine, it could send tensions with Moscow soaring given already the ultra-sensitive issue of the country seeking NATO membership.
Meanwhile, Ukraine is really dialing up its propaganda on its tank request. What PR firm comes up with this stuff? 
Western countries are so worried about sending tanks to Ukraine, they're arguing about what is and isn't a "tank." We offer our humble suggestion. pic.twitter.com/MNU50lw4O1

— Defense of Ukraine (@DefenceU) January 12, 2023
Earlier in the conflict the Kremlin warned of a nuclear arms build-up in the Baltic region should Finland become increasingly militarized and integrated with NATO. This appeared to be a threat aimed at deterring Helsinki from getting more involved in Ukraine, but tanks for Kiev would certainly blow past Russia's red lines.
Tyler Durden
Sat, 01/14/2023 - 08:45