Most Expensive And Cheapest Appliances To Use By Region
Wholesale power prices jumped last year and are yet another cost burden on consumers' wallets. A new study breaks down the cheapest and most expensive household appliances to use based on geographical region. 
Jonathan Merry, CEO of MoneyTransfers, revealed the biggest electricity users in American homes are air conditioners. The average AC unit costs consumers up to $1,062 per year. While the cost per kilowatt differs a few cents across the country, this can translate into cost-savings by region. 
For example, consumers in the Midwest who run air conditioners for eight hours a day benefited the most from lower power prices and saw a $200 reduction in their energy bill than those in the West, with an average annual cost of $826. 
Electric heaters, tumble dryers, washing machines, fridge freezers, and dishwashers were found to be other appliances that cost the most to run, but there are cost benefits to living in certain parts of the country where appliances are cheaper to operate. 
Another example of the cost savings of living on a cheaper power grid is a tumble dryer costs up to $8.64 per month in the West but only $6.72 monthly in the Midwest. 
Cheapest and most expensive appliances to run per year by region.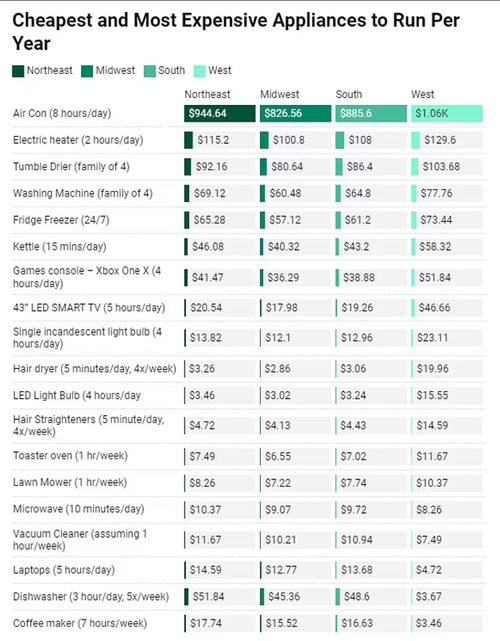 And average monthly costs to run appliances by US region.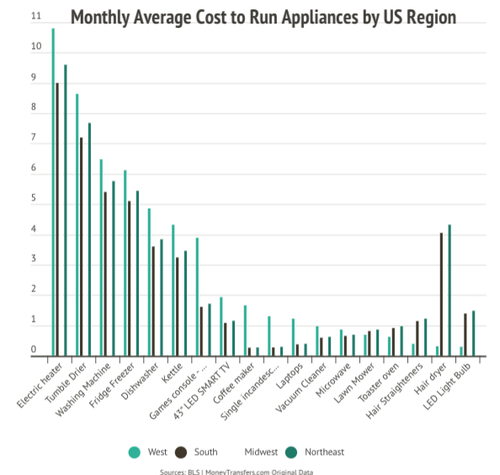 "Many households are looking for ways to save money on their energy bills amidst the rising cost of living worldwide – and our hope is that this data will educate people on what everyday household appliances have the biggest impact on energy usage," Merry said. 
Tyler Durden
Fri, 01/13/2023 - 22:00