At Least 68 Dead In Nepal Plane Crash After Aircraft Plummets Into Gorge
At least 68 passengers have been killed after a Nepal airliner crashed Sunday in the county's worst aviation disaster in more than 30 years.
The Yeti Airlines ATR 72 plane, which is a twin-engine turboprop meant for short-haul regional flights, went down near the city of Pokhara in central Nepal, carrying a total of 72 people including four crew members.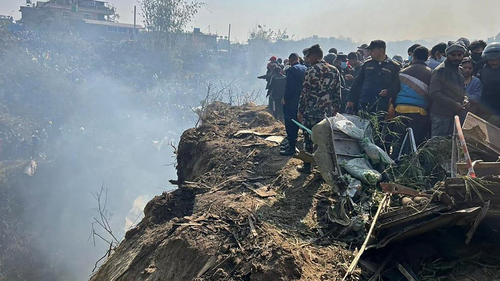 Nepal's civil aviation authority has indicated that 37 were men, 25 were women, as well as three children and three were infants.
Hundreds of rescue workers descended on a large hillside where the airliner went down. Subsequent circulating footage showed huge flames engulfing the area in the immediate aftermath of the crash. The plane appears to be at the bottom of a river gorge.
One local resident identified as Bishnu Tiwari, who assisted in rescue efforts, described of the massive flames: 
"The flames were so hot that we couldn't go near the wreckage. I heard a man crying for help, but because of the flames and smoke we couldn't help him."
The plane had reportedly been preparing to land when the crash happened. The New York Times details of the difficult rescue efforts:
The Nepal Army said it had retrieved 66 bodies from the site as of Sunday evening. Rescuers had taken 29 bodies to a hospital for identification and at least 33 were still at the site, according to Brig. Gen. Krishna Prasad Bhandari, a spokesman for the Nepal Army.

Tek Bahadur KC, the chief administrator of the district of Kaski, where the crash took place said rescuers had to struggle to reach the site, at first because of all the smoke, and because the plane had gone down into a gorge.
Widely circulating but unconfirmed footage showed the plane roll hard just before going down.
A video showing moments before a deadly plane crash in Nepal that saw 72 people killed earlier today. The Yeti Airlines jet crashed near Pokhara International Airport in Nepal and was carrying a total of 68 passengers and four crew members. pic.twitter.com/4DbGY7nUi7

— Ali Hashem علي هاشم (@alihashem_tv) January 15, 2023
The report further indicates there were a number of international passengers on the flight: "Out of the 68 passengers on board Sunday's flight, 53 were from Nepal, five from India, four from Russia, two from South Korea, and one each from Australia, Argentina, France and Ireland, according to Nepal's Civil Aviation Authority."
In total there were 15 international passengers on board, and all four crewmembers were Nepalese.
The country of Nepal relies heavily on tourism, and these types of turbo engine planes are often used to fly passengers to remote cities and towns across the country, and are typically brief flights.
#Nepal
72 passengers were on board. Plane crash at Pokhra International Airport. pic.twitter.com/igBoObcCDm

— Aishwarya Paliwal (@AishPaliwal) January 15, 2023
Aviation monitors are now saying Sunday's incident marks the third-deadliest crash in Himalayan nation's history, with two 1992 crashes, one involving Thai Airways in July of that year which left 113 dead, and another involving Pakistan International airlines later in September which killed 167 people - among the deadliest.
Tyler Durden
Sun, 01/15/2023 - 10:55