Putin Hails "Positive" Momentum In Ukraine, "Stable" Economy In Surprisingly Upbeat Remarks
Fresh off the Russian armed forces declaring victory in the strategic Donetsk town of Soledar days ago, Russian President Vladimir Putin surprised officials in the West by touting the 'positive dynamic' of the Ukraine operation overall, despite the prior months of setbacks and a slower-going operation than Moscow expected. 
He said in fresh weekend comments to Rossiya 1 state television when asked about the successful Soledar operation that "The dynamic is positive." He described that "Everything is developing within the framework of the plan of the Ministry of Defense and the General Staff." Putin followed with, "And I hope that our fighters will please us even more with the results of their combat."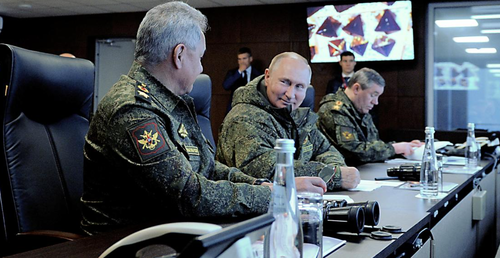 He also made comments on the state of the economy while confirming that Russia will turn for trade to Asian powers, China and India in particular. 
"The situation in the economy is stable," Putin said. "Much better than not only what our opponents predicted but also what we forecast." For this he cited low unemployment, saying: "Unemployment is at a historic low. Inflation is lower than expected and has, importantly, a downward trend."
Despite his county finding itself more isolated than ever before in its modern history, and despite unprecedented Western-led sanctions, Putin showed no signs of backing down from objectives previously set in Ukraine, as Reuters summarizes of the new remarks...
"Putin now casts the war in Ukraine as an existential battle with an aggressive and arrogant West, and has said that Russia will use all available means to protect itself and its people against any aggressor."
Further the report characterized the Western stance in the following: "The United States and its allies have condemned Russia's invasion of Ukraine as an imperial land grab, while Ukraine has vowed to fight until the last Russian soldier is ejected from its territory."
Meanwhile, as we previewed recently, there are reasons to believe Russia is readying an escalation in response to the West sending tanks and deepening its military involvement in support of Ukraine forces.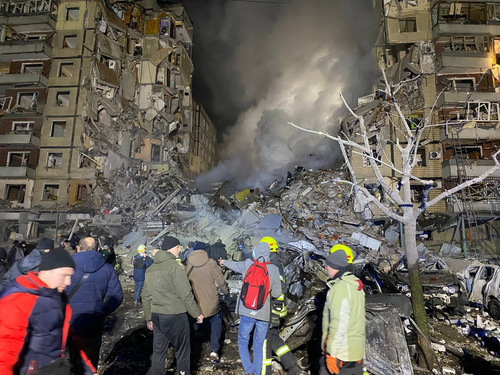 But for now, the defense ministry is continuing its strategy of pummeling Ukraine's energy grid and civilian and military infrastructure through major air strikes. Attacks on Sunday and Saturday marked about the 12th large wave to come in recent months. Air alert sirens have been sounding across the country on Sunday. 
Russia's army described that it targeted "the military command and related energy facilities," and said that "all targets were reached."
Ukraine's national energy operator Ukrenergo said it's again working to quickly restore power in impacted places but acknowledged this latest attack has "increased the energy deficit."
"The period of outages may increase," it acknowledged, already after the national grid having been severely degraded for months, and as emergency blackouts continue for most of the country, with more severely impacted areas with permanent blackouts.
The weekend airstrikes may have included high civilian casualties, compared to prior waves, given the Ukrainian government says a large residential tower was directly hit in the central Ukrainian city of Dnipro.
A Russian missile struck a residential building in Dnipro. https://t.co/ArXCn2oRfMhttps://t.co/bSWkrwfVZj pic.twitter.com/oJq66JVQev

— Rob Lee (@RALee85) January 14, 2023
The New York Times details of the Saturday afternoon strike at a moment a rescue operation is still underway, "Rescuers on Sunday continued to comb the rubble of a nine-story apartment building that was cut in half by a Russian strike, as the death toll from the attack in the central Ukrainian city of Dnipro a day earlier climbed to 30," and noted: "It was one of the largest losses of civilian lives far from the front line since the beginning of the war."
"By Sunday evening, 30 people had been confirmed dead, according to Ukraine's State Emergency Service," the Times continued. "At least 75 people were injured, and more than 30 people were still believed to be missing, local officials said."
Tyler Durden
Sun, 01/15/2023 - 17:00