UK Sending Heavy Tanks Will Only "Intensify" Conflict With "More Casualties": Kremlin
The Ukrainian government has recently issued a call for its Western backers to provide heavy tanks so in can beat back Russian forces, after countries like Poland and other Eastern European governments have already provided an estimated 300 modernized Soviet tanks since last February.
But Kiev is urging for hundreds more Western-manufactured tanks to be sent, especially the US M1 Abrams. But so far Washington has only pledged light infantry carriers - the Bradley Fighting Vehicle.
As we detailed previously, it's now the UK and Poland leading the charge among allies to send tanks, given London lately announced it will send the the Challenger 2, widely considered a highly capable main battle tank. But a new warning from Moscow has said the decision will only intensify the conflict, saying that instead of bringing any significant Ukrainian edge on the battlefield, more civilians will be harmed in the fighting.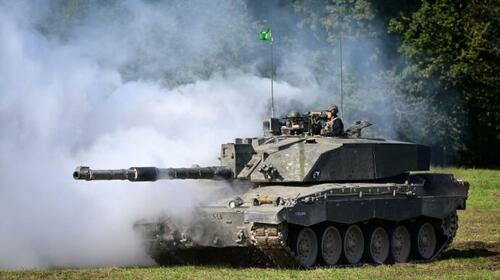 "Bringing tanks to the conflict zone, far from drawing the hostilities to a close, will only serve to intensify combat operations, generating more casualties, including among the civilian population," a weekend statement by the Russian embassy in London said.
Undeterred by Russia's warnings, Ukrainian President Zelensky thanked the UK for the takes, suggesting that Britain has made it easier for other allies to send heavy tanks. He said this "will not only strengthen us on the battle field, but also send the right signal to other partners".
Zelensky and his top officials have also repeatedly requested air power in order to "close the skies" given clearly Russia has a significant aerial tactical advantage, though the US is now training Ukrainian personnel on how to operate Patriot anti-air defense missiles. 
"To win this war, we need more military equipment, heavy equipment," a statement from Zelensky's office also urged. Poland days ago pledged German-made Leopard tanks.
As for air power, UK tabloid papers have reported that Britain will also supply a handful of Apache attack helicopters, but this prompted an immediate denial of the claims by the British government. 
The tanks package is expected to be delivered to the Ukrainians "in the coming weeks" according to a UK statement, and it will be a squadron, or 14 'Challenger 2' tanks, including over two dozen AS-90 artillery guns.
Tyler Durden
Sun, 01/15/2023 - 12:00