Bama Basketball Player Charged With Capital Murder In Weekend Shooting
A junior forward on the #4 Alabama Crimson Tide men's basketball team has been charged with capital murder after an early-morning shooting near the school's Tuscaloosa campus.  
The player, 23-year-old Darius Hairston Miles, is one of two men facing murder charges following the shooting death of a woman, 23-year-old Jamea Jonae Harrison, of Birmingham, who was mother to a five-year-old. 
"It appears at this time that the shooting was the result of a minor argument that occurred between the victims and suspects after they encountered each other along the strip," said Tuscaloosa Police Captain Jack Kennedy. The Strip is an area of bars, restaurants and retail shops along University Boulevard, and is a focal point of the college town's night life. 
As a handcuffed Miles was escorted from Tuscaloosa County Jail into a police vehicle, he could be seen crying, "I swear, I love you more than you imagine." It wasn't clear whom he was addressing. The capital murder charge springs from the fact that fatal shots were fired into a vehicle. 
Alabama basketball player Darius Miles has been arrested in connection with the savage, brutal and heartless slaughter of a young woman.

He faces execution if convicted of capital murder. pic.twitter.com/HAEzvskJNC

— David Hookstead (@dhookstead) January 16, 2023
The incident involved four people in two cars. At approximately 1:45 am, the driver of a vehicle approached campus police near the Walk of Champions at Alabama's Bryant-Denny Stadium. He said someone had shot into his vehicle, striking his passenger, Harrison. The driver said he'd returned fire and thought he'd hit someone. 
23-year-old Jamea Jonae Harris life ended tragically early Sunday morning following a shooting near The Strip in Tuscaloosa, Alabama. Harris' death has been on hard on her entire family. Former @AlabamaMBB player Darius Miles and another man face capital murder charges. pic.twitter.com/sJsENt18BU

— Juan Hustle (@JuanHustle) January 16, 2023
Police arrested Miles and 20-year-old Michael Lynn Davis of Charles County, Maryland. Of the four, only Miles was affiliated with the university.
After interviewing witnesses and viewing surveillance video, police quickly identified their two suspects. One of the them was treated for non-life-threatening gunshot wound, but police didn't say who that was. Nor have they said who fired at the other car.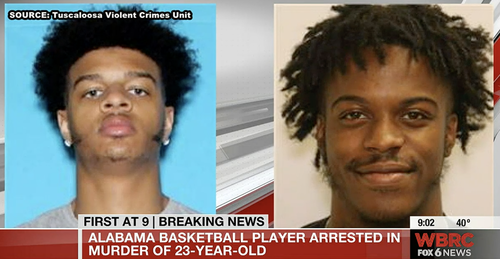 Earlier in the season, Miles missed a few games because of an unspecified "personal matter." Before  Alabama's Saturday afternoon 106-66 home rout of the LSU Tigers, the sports information department announced that he was out for the season with an ankle injury. Though he played substantial minutes off the bench last season, the Washington DC native played only 40 minutes in six games during the 2022-23 campaign.
Alabama says he's been "removed from campus" and is no longer on the team. His biography page has been wiped from the Crimson Tide athletic site.  
An Associated Press photo captured a jubilant Miles celebrating a play during Saturday's game...just a matter of hours before a "minor argument" would put him on a potential path to lethal injection. It's a reminder to all of us that de-escalation is an essential skill in being a proficient self-defender.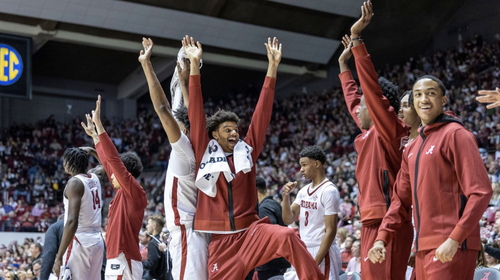 Update: Alabama's Darius Miles will be out for the remainder of the season (murder) https://t.co/S9qsJJTwcv

— jared z ⛵️ (@SheWentToJared4) January 16, 2023
Alabama's Darius Miles has entered the prison portal

— ArtPlugFLA (@RealArtPlug_Fla) January 16, 2023
Tyler Durden
Mon, 01/16/2023 - 06:15