Economists Warn Americans Recession Is Coming: "Don't Be Fooled"
Authored by Jack Phillips via The Epoch Times,
Two top economists said that despite contrary predictions, a recession will likely hit the United States in the near future.
"Some economists argue that the strength of the labor market - as well as household balance sheets - will keep the economy strong enough to avoid a recession," wrote Lakshman Achuthan and Anirvan Banerji, the co-founders of the Economic Cycle Research Institute, in a Friday opinion article.

"We disagree," they wrote, saying that "it remains our expectation that the U.S. economy will enter a recession this year."
That's because, in part, because of the Federal Reserve's recent decisions to raise interest rates to their highest levels in decades in a bid to slow inflation levels not seen since the early 1980s, they wrote. The rate hike appears to have worked to an extent as the Labor Department last week confirmed that the consumer price index that measures inflation fell 0.1 percent in December to 6.5 percent.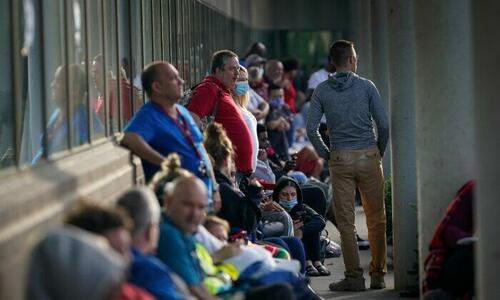 Last month, the Federal Reserve raised its benchmark interest rates by half a percentage point, while the last four hikes were all three-quarters of a percentage point.
"Recessions always entail noticeable declines in both GDP and jobs, but such pullbacks are not necessarily obvious at the recession's outset," the two wrote for CNN, telling Americans "don't be fooled" by rosy forecasts saying otherwise.

"While GDP and jobs do move in step with the economy, by the time they are released, they only tell us where the economy had been in the recent past."
There have been similarities made to the current U.S. economy and the 2008 Great Recession, they wrote.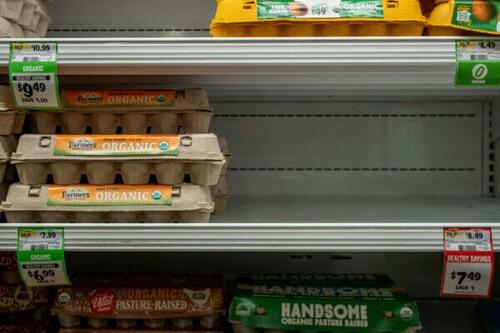 Cartons of eggs are seen for sale in a Sprouts Farmers Market in Houston, Texas, on Aug. 15, 2022. (Brandon Bell/Getty Images)
"Then, many—including then-President George W. Bush—were not concerned about a recession because GDP hadn't declined yet, even though job losses had begun," their article said.
"We pushed back against the prevailing complacency, writing for CNN at the time, 'While GDP has yet to decline, we have already seen four straight months of payroll job losses. That suggests that the economy is on a recession track. And it implies that either one or both of the recent, slightly positive GDP estimates will be revised down to negative readings by next year.'"
A recession would include job losses. There have already been layoffs carried out this winter in the tech sector, led by Amazon, Meta and Facebook, Twitter, and others.
"That is why—having predicted that the economy would enter a recession—last spring we urged job seekers 'to update the resume and make any career moves while the job market is still hot," Banerji and Achuthan wrote.
And while a dropping GDP, or gross domestic product, and higher unemployment rates are telltale signs that a recession is underway, the two economists said that those two factors "do move in step with the economy, by the time they are released, they only tell us where the economy had been in the recent past."
"Employment, in particular, can hold up longer than expected in a recessionary scenario," they added.

"That was true in the inflationary era around the 1970s. Most notably, unemployment didn't peak until eight months after the start of the severe 1973-1975 recession."
The Biden administration hasn't released its December jobs report. In November, the country added 263,000 jobs, and unemployment held at 3.7 percent.
More Forecasts
Another economist, former Treasury Secretary Lawrence Summers, said in a recent interview that the U.S. economy still faces a recession sometime in 2023. That's despite the encouraging reports in recent weeks about lower inflation and steady jobs numbers.
"One has to be careful of false dawns," Summers told Bloomberg last week. "I would stick with my view that a recession this year is more likely than not."
And about 61 percent of Wall Street Journal-surveyed economists predicted there would be a downturn within the next 12 months.
"While recent inflation prints have shown some progress, a few persistent categories like core services are associated with the historically tight labor market, suggesting that there is still 'a long way to go' for the Fed," Deutsche Bank economists Brett Ryan and Matthew Luzzetti said in the WSJ survey, released Sunday. "The Fed would stay on its tightening trajectory to restore the rebalance of labor market and price stability, which in our view would engineer a sharp rise in unemployment and recession," they added.
Tyler Durden
Mon, 01/16/2023 - 18:00