Futures Dip As Dollar Rebounds From 8 Month Low
US equity futures dipped ahead of the MLK day holiday, while global equities were little changed after their best start to a year in a generation as investors assessed whether the recent torrid rally has gone too far given the outlook for inflation, growth and earnings. European stocks rose, while Asian stock fell, erasing earlier gains.
As of 8am, US equity futures traded around 4,010, down 0.2% from the Friday close and erasing modest earlier gains. Futures dipped as the dollar snapped a three-day losing streak and reversed an earlier drop that pushed it to an 8 month low, before gaining 0.2% against a basket of currencies, as investors await a slew of US economic data, speeches by ECB President Christine Lagarde and a policy meeting by the Bank of Japan where outgoing head Kuroda may expand the BOJ's Yield Curve Control from 0.50% to 1.00%.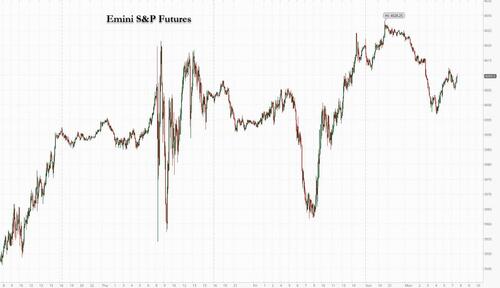 The MSCI ACWI Index slipped for the first time in seven days after posting the biggest advance for the first two weeks in data going back to 1988.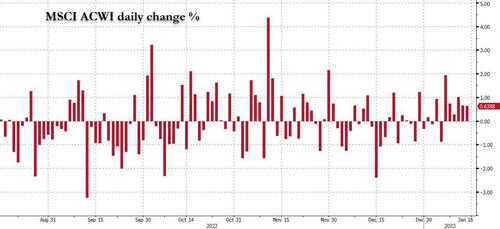 While inflation in the US appears to have peaked, continued policy tightening by the Federal Reserve "just to make sure" and other central banks risks pushing the global economy into a recession that could hurt corporate profits. The World Bank last week added to the gloomy outlook, warning of "one of the sharpest slowdowns we have seen in the past five decades."
"The fear of missing out currently represents a key driver for equities," Credit Agricole CIB strategists led by Jean-François Paren wrote in a note. "The market is getting a bit ahead of itself right now."
European stocks picked up where they left off last week, adding to their best start to the year on record. Stoxx 600 rises 0.2% with real estate, health care and financial services leading gains while travel and miners fall. Here are some of the biggest European movers on Monday:
Temenos shares rise as much as 6.4% as investors greet the Swiss software company's CEO change as a positive; ZKB says move should help to rebuild investor confidence over time
Yspomed shares climb as much as 12% after Credit Suisse raised the Swiss company's shares to outperform, saying it's the fastest-growth European mid-cap med-tech company
Verbund shares rise as much as 2.8% after being raised to neutral from underperform at Credit Suisse, with the broker saying the Austrian power firm's shares now look fairly valued
Sika shares rise as much as 1.3% after the Swiss construction material manufacturer agreed to sell some concrete additive assets to Ineos to win approval for its acquisition of MBCC Group
Covestro shares drop as much as 5.1% after preliminary results that analysts said looked weak and would likely put pressure on the chemicals company's dividends
Just Eat and HelloFresh shares fall in early Monday trading after Exane BNP Paribas downgrades both stocks to neutral, taking a more cautious stance on the online food sector
Proximus falls as much as 6.1% after the Belgian telecom operator said it would cut its dividend by half from 2024 to reduce leverage
ITM Power slumped as much as 19% after issuing a profit warning, which RBC said shows there are still uncertainties related to the timing of large purchase orders and ramp-up costs
Tecan Group shares fall as much as 5.6% after Kepler Cheuvreux analyst Maja Pataki cut the recommendation to hold from buy, citing "limited upside nearer term"
AutoStore falls as much as 14% after DNB initiated coverage of the shares with a sell recommendation, calling it an "exciting company with an overly stretched valuation"
IQE shares plunge as much as 21% after the semiconductor wafer-products maker said that demand from existing customers could take a hit from industry-wide "some destocking"
Asian stocks edged lower as investors braced for another possible surprise from the Bank of Japan later this week, while Chinese shares continued to rally on hopes for reopening and eased regulation. The MSCI Asia Pacific Index gave up gains of as much as 0.6% to fall 0.4%, dragged by consumer discretionary and industrial shares. Japanese stocks faltered as the yen strengthened ahead of the BOJ's policy decision Wednesday. The onshore Chinese market and the Philippines led gains around the region. China's CSI 300 Index jumped 1.6% to an almost five-month high as overseas investors stepped up purchases of the nation's shares amid broader optimism on border reopening. Also boosting sentiment was news that Didi Global Inc. has secured the green light to resume signing up new users, another sign that China's tech crackdown is over.
Meanwhile, the People's Bank of China added less cash than expected into the banking system via policy loans while keeping the rate unchanged this month, even with funding demand increasing into Lunar New Year holidays. China's reopening rally has "more to go" and "there will be a rotation in the region, which is already playing out from India and Australia, which were the leaders in 2022, to North Asia, China, and Korea," said Sunil Koul, Asia Pacific equity strategist at Goldman Sachs, in a Bloomberg TV interview. While Chinese stocks have been among the region's best performers this year, Japanese shares have ranked among the worst. Investors have been cautious on Japan equity as the yen climbed with the BOJ expected to continue to move away from its years of ultra-easy monetary policy after lifting a cap on bond yields last month
In FX, the Bloomberg Dollar Index slipped its lowest level since April, before gaining 0.2% as traders weigh the prospects of slowing Fed hikes. Investors await a slew of US economic data, speeches by European Central Bank President Christine Lagarde and a policy meeting by the Bank of Japan for more clues into how much further the battered US currency can weaken. The euro edged up to 1.0874, its highest in eight months, before easing in European trade.
Selling in the greenback petered out as macro accounts picked up dollars in thin trade after the London open, two Europe-based traders say, adding that volumes were around around 70% of recent averages as US market are closed for Martin Luther King Day.
Market participants are increasingly expecting more weakness in the dollar, given growing confidence that the Federal Reserve may pause its interest rate rises in the coming months. Short-term US inflation expectations cooled in early January to the lowest level since April 2021, the University of Michigan's preliminary survey reading showed.
"Positive risk sentiment and rising speculation of an impending Fed pause has driven the US dollar steadily lower in the past week," Alvin Tan, strategist at RBC Capital Markets, wrote in a note. The dollar could be in for more losses this week if a raft of US economic data, including retail sales, PPI industrial production and the Fed's Beige Book, suggest price pressures continue to ease. Focus will also be on two speeches by the ECB's Lagarde later in the week at the World Economic Forum in Davos.
"Markets are set to pay great attention to Lagarde's remarks following evidence that price pressure is easing in many countries worldwide and given the further EUR/USD appreciation at the start of 2023," Unicredit analysts wrote in a note. Given its revised forecast for the ECB to raise rates more than the Fed this year, Unicredit has raised its EUR/USD targets to 1.12 for Q4 23 and 1.16 for Q4 24, compared with its previous targets for 1.07 and 1.12, respectively. "A tighter difference between the two policy rates this year and even more in 2024 calls for a higher EUR-USD," they write.
The Bank of Japan's rate review on Wednesday will also be a key focus, as investors remain on high alert for further policy tweaks after December's shock decision to raise the bar on yield movements
In rates, European bonds decline with 10-year borrowing costs in Germany and the UK climbing 4bps and 5bps respectively. Treasury futures are also lower, with no cash trading today due to the Martin Luther King Jr. Day holiday
In commodities, WTI drifts 0.3% lower to trade near $79.60. Spot gold falls roughly $3 to trade near $1,917/oz.
Bitcoin slipped below $21,000 following a rebound over the weekend, when it surged amid optimism that it may have bottomed.
While US calendar is empty Monday with the US closed for MLK day, earnings will be a key catalyst moving forward as traders assess whether companies were able to navigate headwinds including higher interest rates. The busy week will also be punctuated by corporate earnings, including top banks Goldman Sachs and Morgan Stanley.
Additionally, a host of Fed officials will be speaking this week, providing more clues for investors. The World Economic Forum's annual meeting kicks off in Davos, Switzerland, with speakers there including European Central Bank President Christine Lagarde and the International Monetary Fund's Kristalina Georgieva.
Market Snapshot
S&P 500 futures down 0.4% to 4,002.25
STOXX Europe 600 up 0.2% to 453.40
MXAP down 0.3% to 165.60
MXAPJ up 0.3% to 545.98
Nikkei down 1.1% to 25,822.32
Topix down 0.9% to 1,886.31
Hang Seng Index little changed at 21,746.72
Shanghai Composite up 1.0% to 3,227.59
Sensex down 0.3% to 60,087.56
Australia S&P/ASX 200 up 0.8% to 7,388.18
Kospi up 0.6% to 2,399.86
German 10Y yield little changed at 2.20%
Euro down 0.1% to $1.0819
Brent Futures down 0.5% to $84.87/bbl
Brent Futures down 0.5% to $84.87/bbl
Gold spot down 0.3% to $1,915.19
U.S. Dollar Index up 0.16% to 102.37
Top Overnight News
Didi Wins Okay to Relaunch Apps as China Tech Crackdown Ebbs
Oil's Advance Takes Breather as Investors Assess China Reopening
Five Things You Need to Know to Start Your Day
FOMO Stirs Again in Bitcoin's Best Start Since Before Pandemic
Citi Names Tibor Pandi as Singapore Country Head
Lithium's Next Big Risk Is Grand Supply Plans Falling Short
China Reopening Will Boost Global Economy at Crucial Moment
Energy, Chips, Taiwan: Flashpoints for 2023 in a Fractured World
Ukraine Latest: Zelenskiy Says Donbas Is Key to Stopping Russia
Biden Missteps on Secret Papers Create Self-Inflicted Crisis
At Least 68 Dead as Nepal Plane Crashes Seconds Before Landing
GOP Lawmaker's 'Won't Budge' on Debt Limit Softened by McCarthy
Stock Buyers Can Finally Catch Their Breath as Volatility Eases
Tyler Durden
Mon, 01/16/2023 - 08:36