German Defense Minister Resigns As Criticism Over Ukraine Mounts
Germany's Defense Minister Christine Lambrecht has stepped down on Monday after what's widely reported as a series of blunders and PR disasters, and amid accusations she's been too slow and inept in providing Ukraine defense aid.
A member of Chancellor Olaf Scholz's Social Democrats (SPD), she's been a headache for the Scholz government, and alongside rising criticism over the handling of Ukraine, she's been accused of bungling Germany's own defense readiness.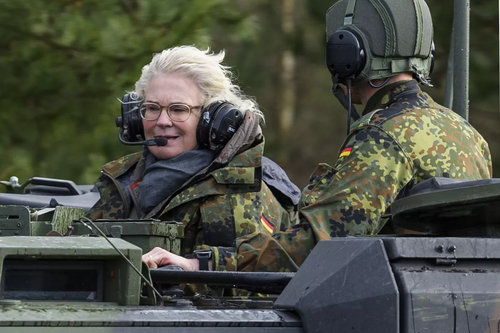 Lambrecht made reference to some recent embarrassing PR moments in her resignation letter, which said in part: "Months of media focus on me doesn't allow for fact-based reporting and discussion about soldiers, the army and security policy in the interest of German citizens."
"The valuable work of the soldiers and many motivated people in the defense area needs to be in the foreground," the letter added.
Criticism grew most fierce over the last two weeks over an awkward New Year's Eve message and video her office published, as Deutsche Welle (DW) describes: 
The move comes after German media outlets reported on Friday that the defense chief intended to step down after a much-criticized New Year's Eve message she posted on social media. 

In her message, Lambrecht mentioned the war in Ukraine with the sound of fireworks in the background. Members of the opposition Christian Democratic Union (CDU) called out the message as tone-deaf and urged her to resign.
According to the same publication, "Her gaffes included taking her adult son on an official trip to a unit in northern Germany in a German Armed Forces helicopter, only to continue with him on vacation in Sylt." Talk of her imminent resignation began on Sunday.
The New Year video that set off the most recent widespread criticism: 
Fireworks in Berlin on New Year's Eve in the background – and the German defense minister talking about war in Europe in the foreground.

Christine Lambrecht's New Year's address posted on her Instagram sparked outrage and again increased calls for her resignation. pic.twitter.com/hQNE2T88Gu

— DW Politics (@dw_politics) January 2, 2023
Perhaps more importantly she's been seen as emblematic of Berlin's hesitancy to step up defense aid to Ukraine, amid pressure from other NATO allies. For example, she once came under fire for saying that 5,000 military helmets to Ukraine was "a very clear signal that we stand by your side."
Currently, the Scholz government is coming under more and more pressure as other European countries like the UK and Poland begin sending heavy tanks to the Ukraine conflict. Already, Berlin agreed to send 40 Marder armored personnel carriers, as well as a Patriot air-defense missile battery to Ukrainian forces.
Tyler Durden
Mon, 01/16/2023 - 09:30