"Survive, Then Thrive": One River Digital On The Future Of Ethereum
By Sebatsian Bea of One River Asset Management
It was all about the Fed – or was it? US policy rates rocketed higher last year, dominating broader market dynamics. That's all you needed to know. But there were quiet outliers. Turkey was the top-performing equity market in US dollar terms – a surprise given the unexpectedly rapid Fed tightening. Stablecoin being stable in both price and assets was probably not on your bingo card under the digital-1929-crash column.  
Financial strains are a stress test for any ecosystem. Heed the things that live on, and respect how others became extinct. This is routine in the natural world. The pine tree adapted to fire by seeding only after a blaze when the soil is rich, and the sun isn't obstructed by a canopy. After the burn, we see a scorched earth. Yet, seeds protected by pinecones are dispersed by fire, a resilience formed by nature's trial and error.  
Stablecoin not only survived the digital downturn – it thrived. Settlement of US dollar stablecoin to the blockchain hit a record high last year, at more than $9 trillion. It is especially impressive given that the capitalization of the digital ecosystem fell by more than two-thirds. If investors were going to give up on digital, they would have left for traditional banking. They didn't. Assets for the top-four stablecoin were stable, averaging $142 billion in 2022.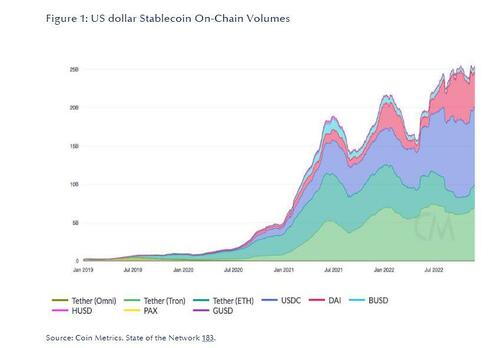 The scorched earth of the digital economy brings the focus back to the "boring" basics. Market conditions demand this refocus. After all, Bitcoin and Ethereum are now a 64% share of the non-stablecoin capitalization, leaving the alternative asset universe at a modest $271 billion. And for a digital application like stablecoin to be resilient, so, too, must be the rails it's built upon. Ethereum is that dominant base rail, running a 75% share of stablecoin supply. 
Ethereum was not only the base layer of choice for the most resilient application, it also successfully executed the migration to proof of stake last year. The number of Ethereum validators crossed 500,000 this week, up nearly 2-times from a year earlier – not bad for a bear market! Both are strong votes of confidence. But staking assets is still a one-way street. You can stake Ethereum and earn yield, but you cannot redeem…yet.  
That's about to change. The Ethereum Foundation is set to launch its testing network to allow for withdrawals from staking nodes, the next big milestone. For investors, staking ether has been an exercise in patience. The annual ETH yield from staking has averaged roughly 10% since its introduction, a modest reward judged against ether's 95% realized volatility over the period. Downside volatility has overwhelmed yield – 71% of ether staked is in a loss position.  
Will the unlocking of staked ether be a catalyst for another wave of rapid selling pressure? There is one natural vehicle for forced selling – ETH derivatives, like liquid staking. Liquid staking appeared as a solution for investors to earn some yield reward and stay liquid. These pools account for a substantial 33% of staked ETH. Liquidity is managed by reserves, like a central bank – 59% of reserves in stETH, the largest provider, are staked, and 41% are liquid.  
stETH traded at a significant discount to ether during last year's stress (Figure 2). Think of this as a liquidity premium. Rapid sales of stETH led to a draining of liquid reserves. As reserves in staked ETH rose, redemptions were less likely to be met with the return of ether. If 100% of stETH reserves were staked, the only way to get liquidity is to sell stETH into the open market. The discount captures the liquidity premium needed to attract a buyer and clear the market.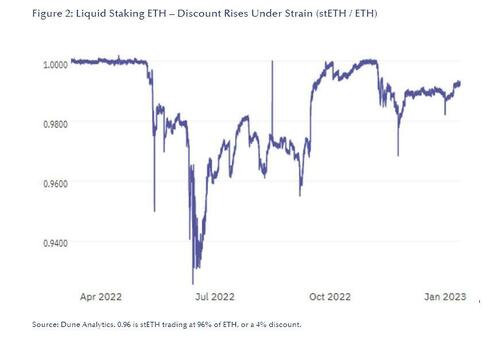 Ether selling pressure can build once the staking withdrawal mechanism is live. Trading at a discount, an investor could buy stETH, withdraw staked ether, sell the ether proceeds, and profit from the discount in the process. But with the current discount at a modest 68 basis points, this is unlikely to dominate. Options markets send the same signal – the skew to ETH puts is small with no differentiation around the expected date of the withdrawal mechanism going live.  
Ether staking withdrawals are unlikely to be a bearish event. On the contrary, there are positive impulses to ETH demand.  
For one, shorter lockup periods are associated with a higher rate of staking deposits. Ethereum's staking rate is currently 13% versus 60% for assets with lockups of less than three days – where ether is headed (Figure 3).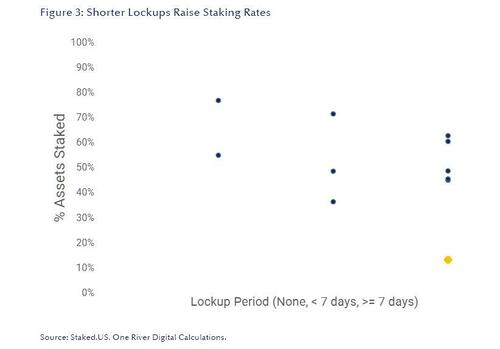 Further, ETH real yields are running high, at 5%-to-7% adjusted for its inflation (5.1% now). The average real yield for the top 22 assets is currently 3.2%, and even lower for other low-inflation assets (Figure 4).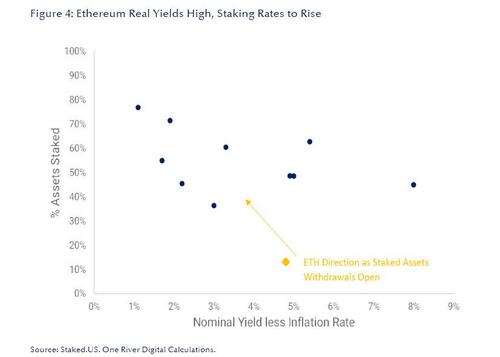 Ethereum won't leap to the norm of other protocols – ETH ownership is less concentrated, and the low inflation rate means the cost of not staking is less. But the direction of traffic is clear – and positive. The bond math tells you that ether is the cheapest on the block(chain).
Tyler Durden
Mon, 01/16/2023 - 10:00