"A Historic Turning Point": China Reports Blowout Q4 Economic Data As Population Falls For First Time In Decades
If there was any doubt that China is back - or was back even when it was still largely mostly locked down with various now defunct Covid zero restrictions - all those doubts were magically whisked away moments ago when Beijing's not-so-random number goalseekatron published the data dump for Q4 which - drumroll - not only beat across the board, but absolutely smashed expectations.
Here is what China's National BS (which stands for Bureau of Statistics of course), reported moments ago for a quarter when Covid Zero was still all the rage (before China mysteriously called time on the worst economic policy of the past three years):
Q4 GDP +2.9% y/y; down predictably from the Q3 +3.9% as zero Covid policies hammered growth for most of Q4 (China was mostly locked down during the quarter), but smashing the estimate of +1.6% and not far from the highest forecast (range -1.1% to +3.5% from 28 economists).
2022 cumulative GDP +3% y/y; also beating expectations of +2.7%; curiously this was unchanged from the estimate of the first 9 months which was also at +3%
Dec. industrial production +1.3% y/y; beating expectations of  +0.1%, and down from Nov's +2.2%
Dec. retail sales -1.8% y/y; smashing expectations of a -9% plunge, and a big improvement from Nov's -5.9% plunge.
Jan.-Dec. fixed-asset investment excluding rural households +5.1% y/y; also beating expectations of +5%, and a modest slowdown from the Jan.-Nov. print of +5.3%
Dec jobless rate 5.5%, down from 5.7% in Nov.
Solid data dump aside, there was continued weakness across property and housing, although as we already know this sector is poised for a huge surge now that China is phasing out its "three red lines" and its bad debt firms are planning up to $24 billion in support for developers.
Jan.-Dec. property investment -10% y/y vs -9.8% in Jan.- Nov.
Jan.-Dec. residential property sales -28.3% y/y vs -28.4% in Jan.-Nov.
A snapshot of the data: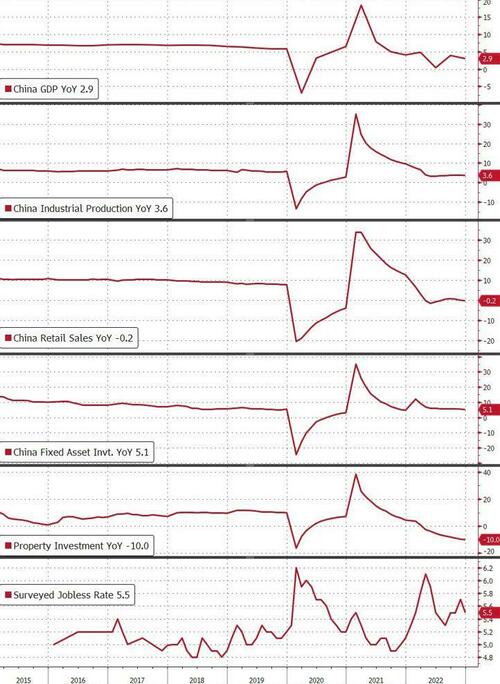 On paper, all of the above looks great. On paper, however, it's of course all fake as Australia's Bill Birties points out:
It is extraordinary that an economic quarter that saw restrictions across multiple cities for Covid followed by mass nationwide outbreak in December… would see not only as much economic activity as the same period a year earlier, but almost 3% more…
But while the "surprise" beat in China's GDP (and everything else) was tonight's big headline, there was another big headline in the big (non-surprise) decline in China's population. As the NBS reported, China's total population fell by 850,000 in 2022, to about 1.41 billion at end-2022, a drop for the first time since 1961, the final year of the Great Famine under former leader Mao Zedong.
China's population started shrinking in 2022 marking the first drop since 1961, the final year of the Great Famine under former leader Mao Zedong https://t.co/waPxjeqC3q pic.twitter.com/XNR3pKbcCP

— Bloomberg (@business) January 17, 2023
According to the data, a total of 10.41 million people died, a slight increase from around 10 million recorded in recent years (good thing there were no pandemic at the time). At the same time, some 9.56 million babies were born in 2022, down from 10.62 million a year earlier, the lowest level since at least 1950, despite efforts by the government to encourage families to have more children.
"This is a truly historic turning point, an onset of a long-term and irreversible population decline," said Wang Feng, an expert on Chinese demographic change at the University of California, Irvine.
While the decline officially began last year, with deaths outstripping births, the FT notes that some demographers argue that the trend likely started before then. Fuxian Yi, a demographer at the University of Wisconsin-Madison, estimated that China's population started to fall in 2018, but the drop was obscured by "faulty demographic data".
"China is facing a demographic crisis that far exceeds the imagination of Chinese authorities and the international community," said Yi, noting that the trend will act as a long-term drag on the country's property market, a crucial engine of growth.
"Abundant labor has been the fuel that has driven China's rapid growth for more than four decades," said Yi, "and now China is flying at high speed without enough fuel."
Some economists argue that the rise of automation will offset rising labour costs as the number of workers shrinks.
China's demographic disaster aside, the stellar economic data - at least in the context of consensus expectations - was still quite poor: China's economy grew at the second slowest pace since the 1970s in 2022 as Covid restrictions hammered activity, though better-than-forecast fourth quarter and December data add to optimism it may be primed for a recovery; it was also well below the governments target last year of around 5.5%, although that's where 2023 comes in. According to Ho Woei Chen, an economist at United Overseas Bank in Singapore, China's latest economic data suggest the momentum for recovery will be stronger in 1Q this year with the reopening of the borders and relaxation of the regulatory oversight in some sectors including property. And it's all uphill from there.
"We are maintaining our forecast for 2023 at 5.2%. Economic recovery is likely to accelerate in 2Q as the population achieves herd immunity, which will pave the way for further normalization in activities and a v-shaped recovery in private consumption"

"On the key risks, we remain cautious on the external outlook and the sluggish real estate market could also take the tailwind out of this recovery."
Still, even 5.2% might not be enough. According to the head of the National Bureau of Statistics, Kang Yi, China has to more than double the current per capita GDP of about $12,700 in order to achieve its 2035 goal, although now that the population is declining, this target may be easier to achieve even if it means eventually surrendering the superpower status to India which as of this moment is officially the world's most populous country.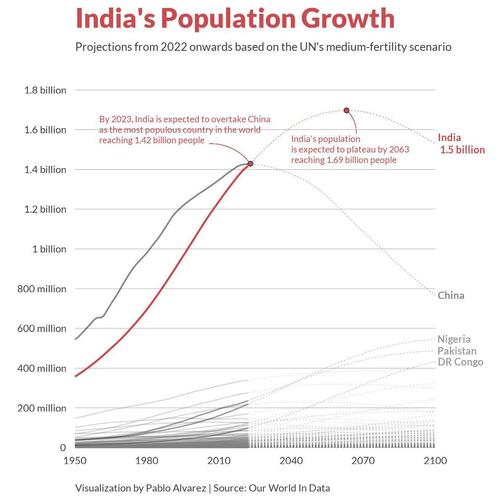 Tyler Durden
Mon, 01/16/2023 - 22:18