Beijing Gives Didi Green Light To Sign Up New Users, Signaling End Of Regulatory Crackdown
ADRs of Didi will be on watch heading into the shortened trading week as the company has reportedly "secured the green light to resume signing up new users", according to new reports from Bloomberg and Yahoo. 
The resumption of business as somewhat normal came as Didi was made the poster child for a Beijing-led crackdown on China's internet industry. The decision to allow Didi to continue operating is being hailed as a "clear sign" that Beijing is prioritizing re-starting the country's economy after locking down for Covid. 
Didi's app had been removed from app stores in 2021, but services could "soon return to Apple and Android stores" as a result of the resumption. Didi has long been compared to Uber in China, but most recently became famous alongside of the halted Ant Group Co.'s IPO as a symbol of China's crackdown on its internet industry. 
The crackdown on Didi came after the company "pushed ahead with a $4 billion-plus US initial public offering against Beijing's wishes". It is being speculated that now, with the resumption of signing up users, the company may eventually list in Hong Kong.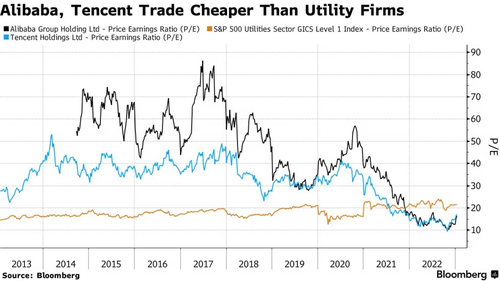 Combined with recent concessions made regarding Ant Group, it sends a signal that the government may be easing up on the industry as a whole. Guo Shuqing, party secretary of the People's Bank of China, has alluded to the regulatory clampdown drawing to a close, Bloomberg wrote. 
Bloomberg Intelligence analyst Catherine Lim said in a report this weekend: "The relaunch of Didi apps supports earlier indications from Beijing that required reforms within local technology sector are near-completion. Disruptions to the operations of tech giants such as Alibaba, Tencent should be minimal in 2023."
It may also see Didi stock - which had traded on the over the counter markets - once again attempt an uplisting in the United States. 
"In the future, the company will take effective measures to guarantee the security of our platform infrastructure and big data, and maintain national cybersecurity," Didi said in a company-issued statement this weekend.
Tyler Durden
Mon, 01/16/2023 - 19:45