Belarus, Russia Launch 2-Weeks Of Joint Aerial Drills, Making Western Allies Nervous
Russia and Belarus have kicked off joint aerial drills over Belarusian skies on Monday, in a worrying prospect for neighboring Ukraine given the exercises will last for a full two weeks, until Feb.1. 
Minsk, however, has called the drills "defensive in nature" amid accusations from Kiev that Belarusian armed forces are about to join the Russian invasion. Seeking to downplay that this signals escalation in Ukraine, Minsk also called the exercises mere "technical drills" which seek greater compatibility among the allies' air forces.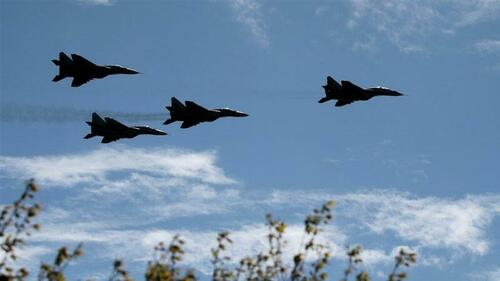 An Al Jazeera correspondent in Moscow said that "We all know that last month President Vladimir Putin went to Minsk, where he met his counterpart [Alexander] Lukashenko, where they agreed that Russia will provide the Belarusian air force with training to be able to use what they described as aircraft that could carry unconventional weapons."
But the correspondent noted: "there are many concerns with the role Belarus is playing with respect to the war, whether this is going to have [an] impact."
As of last week, the Pentagon said it had yet to observe any Russian troop movements in Belarus that would indicate the two countries are staging a fresh attack on Ukraine together. Over the last weeks there have been widespread reports of Russian heavy equipment moving across the border by train into Belarus.
According to an AP description of the Monday joint air force drills, "The exercise will feature joint air patrols, action to support ground forces, airborne operations, air reconnaissance and transport flights, the ministry said. It didn't mention the number of aircraft that will be involved in the drills."
Ten days ago, Belarusian President Alexander Lukashenko paid a visit to a military base where Russian troops are stationed, in but the latest sign of Belarus' growing support to Russian efforts in Ukraine.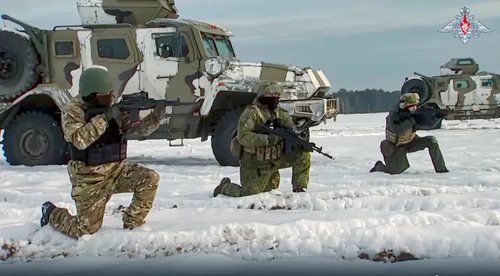 "At this stage, units of the Armed Forces of the Russian Federation are ready to carry out tasks as intended," a defense ministry official said at the time. Lukashenko himself had referred to the conflict in Ukraine as part of his country's "common cause" with Russia.
The Ukrainian government, meanwhile, has continued to charge that Russia is using Belarusian territory to launch drones as it targets energy infrastructure.
Tyler Durden
Tue, 01/17/2023 - 05:45