Morgan Stanley Shares Rise After Top-Line Beat; FICC Disappoints, Loan Loss Provisions Jump
Morgan Stanley shares are extending recent gains in the pre-market after the bank reported better-than-expected fourth-quarter revenue of $12.75 billion ($12.43bn exp), but that was down 12% YoY.
The results were boosted by wealth management net revenue of $6.63 billion which topped the average analyst estimate of $6.14 billion but while FICC sales & trading revenue rose 15% YoY, the $1.42 billion print was well below the $1.68 billion expectations.
The picture was uglier on a YoY basis in other units:
Institutional Investment Banking revenue $1.25 billion, -49% y/y, estimate $1.19 billion

Advisory revenue $711 million, -34% y/y, estimate $630.1 million

Equity underwriting rev. $227 million, -73% y/y, estimate $221.9 million

Fixed Income Underwriting revenue $314 million, -38% y/y, estimate $336.7 million
Non-interest expenses clocked in at $9.87B, exceeding analysts' expectations of closer to $9.39B.
James P. Gorman, Chairman and Chief Executive Officer, said,
"We reported solid fourth quarter results amidst a difficult market environment. Overall, 2022 was a strong year for the Firm as our clear strategy and balanced business model enabled us to deliver an ROTCE of 16% despite the complex macro backdrop.

Wealth Management provided stability with record revenues and over $310 billion in net new assets, Investment Management benefited from diversification, and within Institutional Securities our Equity and Fixed Income revenues were strong, offset by Investment Banking.

Our strong capital position allowed us to repurchase $10 billion of shares this year and we distributed a healthy dividend."
Net interest income was $2.32 billion this quarter, undershooting analyst estimates of $2.495 billion, but up by just over 11% from the same quarter last year.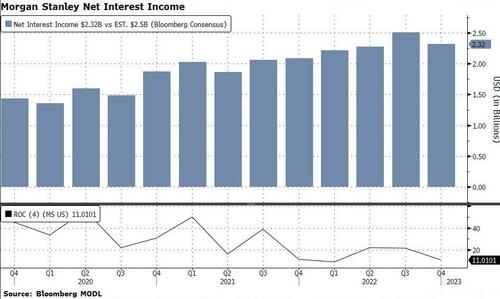 Morgan Stanley shares are up 1.5% in the pre-market...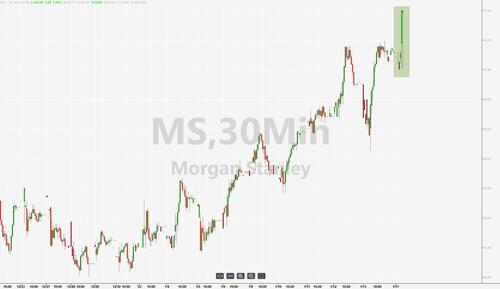 Finally, we note that like other banks across Wall Street, Morgan Stanley has increased its provisions for credit losses from a year ago to $87 million.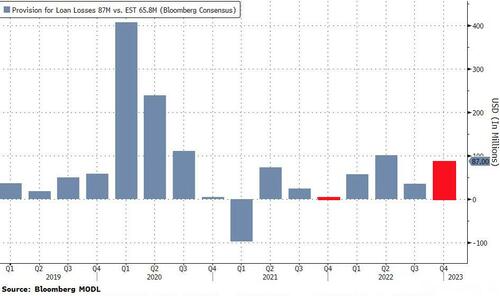 That's a large sum, especially when you compare to a year ago (of around $5M). The New York-based firm said the provision for credit losses figure was "primarily driven by the current macroeconomic environment, portfolio growth and the prior-year quarter reflecting a release in the allowance for credit losses."
Tyler Durden
Tue, 01/17/2023 - 08:10