Trump Reacts To Lack Of Visitor Logs For Biden's House Where Classified Documents Were Found
Authored by Eva Fu via The Epoch Times (emphasis ours),
Former President Donald Trump spoke out after the White House said there are no visitor logs for President Joe Biden's home in Wilmington, Delaware, where multiple classified documents were discovered.
"The White House just announced that there are no LOGS or information of any kind on visitors to the Wilmington house and flimsy, unlocked, and unsecured, but now very famous, garage. Maybe they are smarter than we think!" Trump wrote on his social media platform Truth Social on Jan. 16.
"This is one of seemingly many places where HIGHLY CLASSIFIED documents are stored (in a big pile on the damp floor)."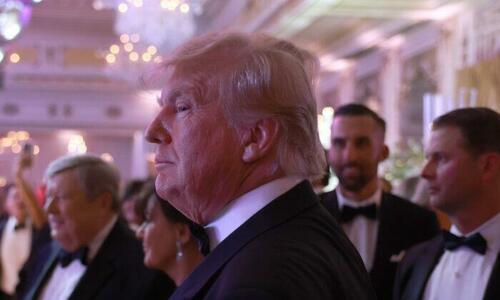 A "small number" of classified materials were discovered on three separate occasions in Biden's Wilmington house in December and January, in the garage and a room adjacent to it, White House lawyer Richard Sauber said last week.
Another stash of documents, which Sauber also described as a "small number," was found in early November at the Penn Biden Center at the University of Pennsylvania, which once served as Biden's office. The documents date back to the Obama administration when Biden was the vice president. The total number of documents uncovered from both sites remains unclear.
Sauber has said the documents were "inadvertently placed" at the locations.
The White House spokesman Ian Sams on Monday said that it wasn't standard practice to keep visitor logs of the president's personal residence, after Rep. James Comer (R-Ky.), chairman of the House Committee on Oversight and Accountability, demanded the information over the weekend, citing national security concerns.
"Like every president across decades of modern history, his personal residence is personal," said Ian Sams, spokesperson for the White House counsel, in a statement to the media. "But upon taking office, President Biden restored the norm and tradition of keeping White House visitors logs, including publishing them regularly, after the previous administration ended them."
Trump on Monday sought to draw a distinction between Biden's handling of the files with his case regarding classified documents found at Mar-a-Lago resort, which was subject to an unprecedented FBI raid last August. Agents at the time took about 100 documents marked as classified or top secret and 11,000 others marked as non-classified. Both cases are currently being investigated by separate special counsels. Trump has maintained that he declassified all the materials before he left office.
Unlike Biden's garage, Trump claimed, "Mar-a-Lago is a highly secured facility, with Security Cameras all over the place, and watched over by staff & our great Secret Service."
"I have INFO on everyone!" Trump said.
The White House has faced scrutiny for not disclosing the initial discovery of the documents on Nov. 2, with critics saying it was a deliberate attempt to cover up news that would have negatively affected the Democrats during the midterms that took place a few days later. The White House confirmed the initial discovery on Jan. 9, only after the development was first reported by media outlets.
Read more here...
Tyler Durden
Tue, 01/17/2023 - 17:00