Vice Premier Touts China 'Reopening To The World' In Davos Investment Pitch
China is using the World Economic Forum's annual meeting and gathering of global elites at Davos to announce the country's total reopening after three years of Covid lockdown and isolation, further vowing to gets its economy back on track to pre-pandemic growth levels.
Chinese Vice Premier Liu He hailed the end of Beijing's "zero-COVID" curbs and a new era of an "open door" for foreign investments. In his address at Davos he called on "entrepreneurs, including foreign investors" to "play a critical role as they are the key elements of social wealth creation" in line with President Xi's so-called "common prosperity" vision.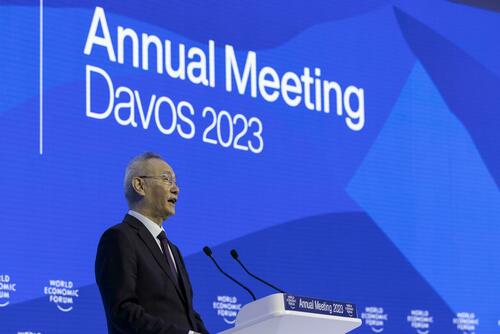 The speech was peppered with some nearly dozen references to strengthening economic cooperation among the world's major economies and maintaining "world peace". He said in this way China and the world can "firmly safeguard world peace."
"China will always promote all-round opening up, and improve the level and quality of opening up," Liu said. "Foreign investments are welcome in China, and the door to China will only open up further."
China's economic tsar further assessed the Covid situation, which has lately grabbed world headlines due to widespread accusations that health authorities are lying and trying to conceal the true death count, telling WEF founder Klaus Schwab the situation is now "steady" and that people are recovering quickly, which is a "surprise". He also pledged that the Chinese economy will get back on track this year despite the pandemic era slowed growth indicators.
As the WSJ notes of the timing of Liu's Davos attendance, "The Chinese economy on Tuesday notched up a 3% year-over- year expansion in gross domestic product in 2022 as the country was ravaged by Beijing's 'zero-Covid' pandemic restrictions and a sharp property-sector downturn." And further of his words: "Mr. Liu said China's current account surplus to its GDP stood at over 2% in 2022, compared with 1.8% in 2021."
He continued in the speech: "We have to abandon the Cold War mentality, try to understand the essence of things from the perspective of material duality, endeavor to build a community with a shared future for mankind, and join hands to respond to global challenges," according to a translation. He stressed: "We believe that an equitable international economic order must be preserved by all of us" - in what's perhaps a subtle swipe at China's main rival the United States.
The EU should focus on "de-risking rather than decoupling" when it comes to trade with China, says von der Leyen in Davos.

She threatens probes: "We will not hesitate to open investigations if we consider that our procurement or other markets are being distorted." pic.twitter.com/DzX6nqO6Ir

— Rosie Birchard (@RosieBirchard) January 17, 2023
On Wednesday Liu is expected to meet with US Treasury Secretary Janet Yellen in Zurich in what will be a first ever in-person meeting, following several virtual meetings. A Chinese foreign ministry statement previewed that the two will seek to "strengthen macroeconomic and financial policy coordination."
It should be noted that Russia - an ally which Beijing has refused to condemn - is conspicuously absent from Davos this year.
* * *
A note by Goldman Sachs summarized the Vice Premier's main points in his Davos speech as follows:
Liu He reaffirmed that policymakers would prioritize economic development, let market play a fundamental role in the economy (Liu emphasized that it's not possible for China to shift back to the planned economy track) and promote higher-level of opening up.
He further stated that policymakers would relax restrictions in the property sector imposed when the sector was overheated, and help expand effective demand. Property remains as one of the nation's pillar industries, accounting for 40% of bank lending, 50% of local government revenues, and 60% of urban households' assets.
Liu He clarified that "dual circulation" focuses on expanding domestic demand, but policymakers would stick to opening up and enhancing international cooperation.
On common prosperity, Liu He stated that this would be a long-term policy goal and aimed to reduce inequality. Policymakers would promote development and encourage wealth creation.
In the Q and A on China's Covid situation, Liu He mentioned dining-in, tourism and transportation services have largely normalized in China, and inbound tourists only needed to provide 48-hour negative Covid test results. Liu believed that the recovery of GDP growth to its normal pace is highly possible, and expect imports to improve significantly, firms to step up investment, and household consumption to normalize. The healthcare system functions normally now and Covid policy focuses on treatment of the elderly population, according to Liu He.
Tyler Durden
Tue, 01/17/2023 - 16:40