Wall Street Reacts To Ryan Cohen Going Activist On China's Tech Giant Alibaba
Until yesterday, Ryan Cohen was best known as the vice-chairman of meme stonk meltups and short squeeze, famous for generating eye-popping returns from investments in just a few months, including fueling repeat short squeeze in doomed stocks like GameStop (many of these staggering gains evaporated just as fast after Cohen pulled the rug on his followers and high tailed it out of GameStop and Bed Bath), and also for building Chewy.com into a $3 billion pet supply firm, a feat which to some has cemented his reputation as a lite version of Elon Musk.
So Monday's news that Ryan Cohen has decided to invest "several hundred million" in China's marquee stock, Alibaba (and according to some, megafraud), will be a key test for the meme-stock icon in a country where individual attempts to drive change at companies and generate stock returns remain a novelty.
As the WSJ reported, Cohen has taken a stake in Alibaba and is pushing the e-commerce leader to buy back more of its shares, in a rare case of activism targeting a prominent Chinese firm. While the stake is tiny in comparison to Alibaba's market capitalization of nearly $300 billion, Cohen has a wide following among individual investors who often follow his lead.
Cohen, whose net worth is over $2.5 billion and whose stocks portfolio including Apple as well as Wells Fargo and Citigroup, first contacted Alibaba's board in August to express his view that the company's shares are deeply undervalued based on his belief that it can achieve double-digit sales and nearly 20% free-cash-flow growth over the next five years.
It's unclear if Alibaba will bother responding, especially now that China's government bought a "golden share" in tech giants Alibaba and Tencent to ensure influence over tech giants, and not to replace one pesky billionaire - Jack Ma - with another. We do know that subsequent to Cohen's initial communication, Alibaba in November announced its board approved expanding the company's share-repurchase program by $15 billion, to $40 billion, while also extending it through March of 2025. Alibaba said it had repurchased roughly $18 billion of its shares under its existing buyback plan, as of Nov. 16. Cohen has communicated to Alibaba's board that the share-repurchase plan could be boosted by another $20 billion, to roughly $60 billion, the people said.
The good news for Cohen is that Alibaba's shares have already climbed about 85% from a multiyear low in October, with its ADRs closing at $117.01 on Friday, but are still down from a high of over $300 reached in late 2020 as technology and other shares rallied in the early days of the pandemic.  Still, assuming that Cohen bought BABA shares in recent months, he is likely already sitting on a generous profit.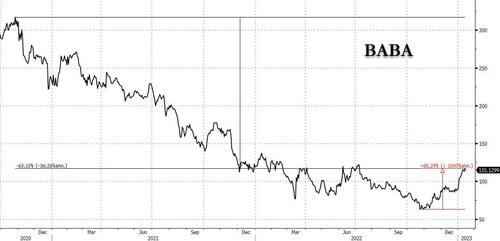 So will this particular activist campaign be successful or will the attempt to change policy in a systematically important Chinese company crash and burn? Before we address this, here is a snapshot of what Cohen has achieved in the stock market since 2020 courtesy of Bloomberg.
Meme-Stock Idol
GameStop soared 6,347% between August 2020 and its peak in January 2021, after an investment firm managed by the co-founder of Chewy disclosed that it had acquired a stake in the troubled video-game retailer. The stock has been trending lower since that astonishing rally.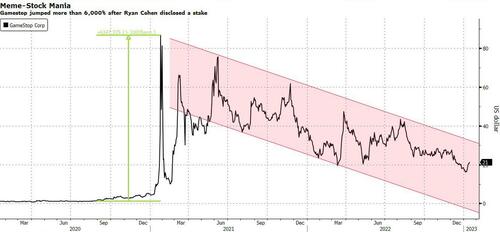 Bankruptcy
Bed Bath & Beyond jumped 68% in a matter of about three weeks after Cohen's investment firm RC Ventures disclosed last March a large stake in the retailer and asked that it consider a sale of the whole company. It has since dropped 87% from that peak, exacerbated by fears of an impending bankruptcy.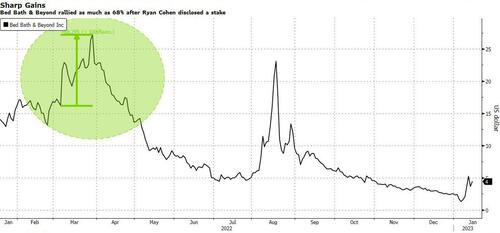 Pre-Meme Stock Days
Cohen plowed virtually all of his proceeds from the 2017 sale of the pet retailer Chewy into just two stocks: Apple and Wells Fargo. Cohen said at that time that his portfolio, when including dividends and a few other stock holdings, has returned more than 40% over the previous three years, beating the market.
* * *
With that in mind what does Wall Street think? According to several analysts, Ryan Cohen buying into Alibaba is another reason for optimism over China's tech stocks, which have been getting a boost recently from signs that regulators are ending a years-long crackdown on the sector. Alibaba's shares closed 1% higher in Hong Kong, paring an earlier advance of as much as 3%, after people familiar with the matter said Cohen has taken a stake in the e-commerce leader and is pushing the firm to buy back more of its shares.
The Cohen news follows a string of positive developments for the sector, the most notable of which was the approval of $1.5 billion in funding for billionaire Jack Ma's Ant Group. Cohen's move is in line with a recent wave of foreign investors, who were previously underweight on Chinese stocks, returning to the asset class amid growing optimism over the country's reopening and pro-growth measures.
Here's what market participants are saying: 
Union Bancaire Privee (Vey-Sern Ling)
"It's positive for the stock because it helps to raise confidence, especially among Western investors who have been skeptical of China"
It also highlights "how undervalued the shares are, and if he encourages more buybacks then that helps shareholder returns too"
Cohen's forecasts are not very different from consensus so they're not unrealistic
Saxo Capital (Redmond Wong)
Cohen's entry should work as an additional positive to get more overseas investors interested in Alibaba again
"Buying from high- profile investors like Cohen will add to the positive sentiment toward A-shares among overseas investors"
Grow Investment (Hao Hong)
Cohen is right in seeing value in Alibaba as the company is a "cash-flow machine"
"While Ryan is influential and the news is positive for BABA, he's unlikely to have much sway with the board, in which the Chinese authority has golden share"
Allibaba's momentum remains positive but the share price has not been going up because of Cohen
Mariana UFP (Jin Rui Oh)
"Cohen's entry can be broadly positive for Alibaba's stock, and given his wide following it should lift sentiment for Chinese tech generally"
Bloomberg Intelligence (Catherine Lim)
Cohen's presence on Alibaba's board might help raise public shareholders' governance over strategic decisions at the company, particularly as Beijing takes a stake in the internet giant
Tyler Durden
Tue, 01/17/2023 - 11:24