French And German Power Prices Soar As Cold Sweeps Europe
Update (0713ET): 
After a mild start to the year, cold weather sweeping across western Germany, France, and the UK led to a surge in electricity prices on Tuesday. 
French day-ahead power prices jumped to 135 euros a megawatt-hour, a 42% increase versus the rolling two-week average. The cause of the price spike is a surge in heating demand and delays in restarting nuclear plants.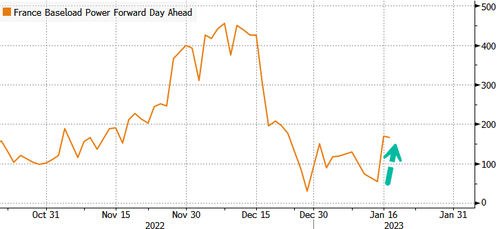 Day-ahead prices in Germany, Europe's largest economy, increased as much as 16% Tuesday.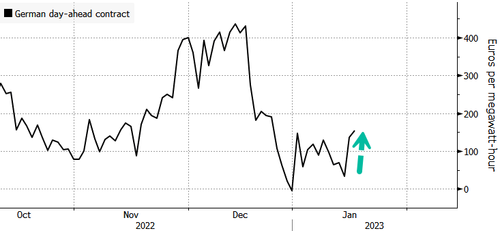 "Cold is expected to grip areas from the mid-continent to west, including in western Germany, France and the UK where average departures from normal range anywhere between 2-6 degrees Celsius below normal," Matthew Dross, a meteorologist at Maxar Technologies, told Bloomberg. 
Dross said the cold spell "will increase heating demand for those regions to above normal levels." 
Despite colder weather and increasing heating demand, Dutch front-month natural gas futures, Europe's benchmark, slid as much as 7.3% after rising 4.6%. Prices have clawed back some losses after tagging 16-month lows.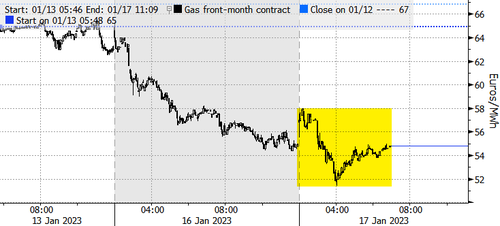 Mild temperatures are expected to return next week, denting demand once more. Morgan Stanley recently wrote that Europe's NatGas consumption in the year to October could be as low as 16% below the five-year average. 
"Even if it makes gas-fired power plants increasingly competitive with coal-fired power plants, it does not lead to an increase in gas demand for power generation because" other cheaper power generation sources will be used first, Engie SA's EnergyScan wrote in a note. 
*   *   * 
Record warmth spread across Europe in the first half of January. Temperatures in the energy-stricken continent felt more like spring as several metropolitan areas recorded the warmest temperatures on record. Now a pattern shift is underway as parts of northwest Europe brace for a cold snap starting Monday. 
The latest runs for global weather models, including GFS Operational and ECMWF Operational, show what appears to be a downward shift in temperatures for northwest Europe. Average temps are expected to average in the low 30s degrees Fahrenheit this week, below 5,10, and 30-year averages.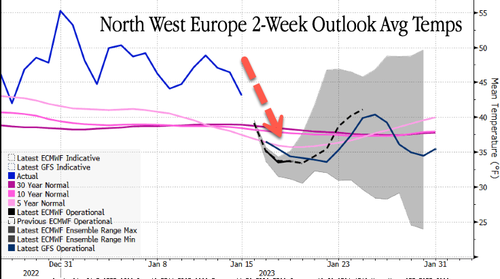 GFS and ECMWF models show temperatures in London could decline to the low 30s by tomorrow -- well below average for this time of year.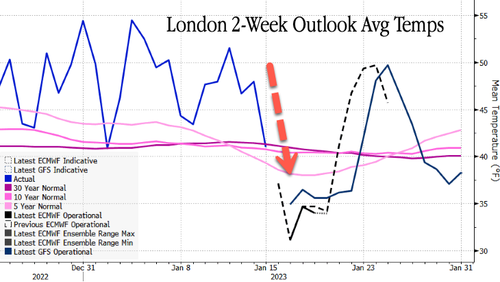 A similar cold spell in Paris is slated for early this week.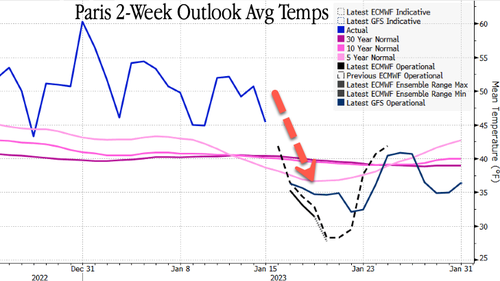 As well as colder temperatures in Berlin.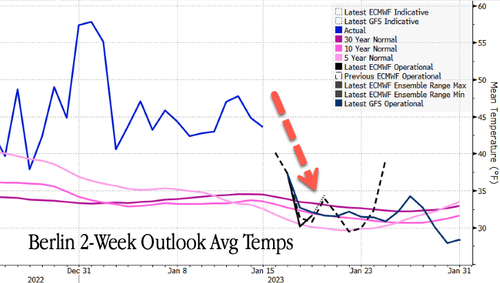 Freezing temperatures across northwest Europe for the second half of the month will push up heating demand.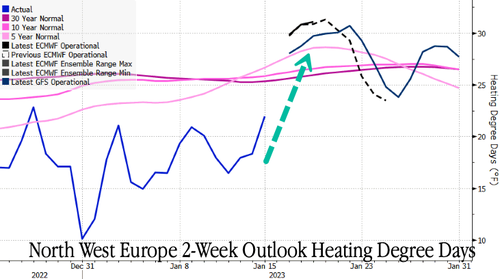 Mild temperatures curbed heating demand and allowed for injections into natural gas storage at a time when supplies should be drawing. But that could change with the return of winter.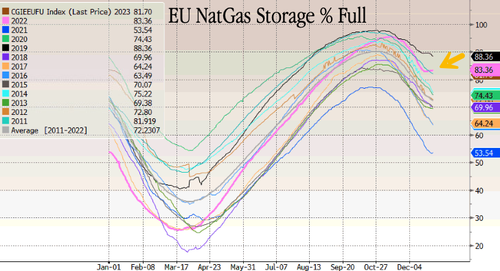 The return of freezing conditions did very little to boost EU nature gas prices, which fell to the lowest level since September 2021 as the supply outlook remained robust.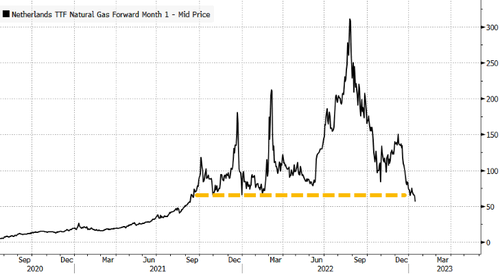 "There currently appears to be no end to the losses on the European gas market," analysts at trading firm Energi Danmark A/S wrote in a note. They added: 
"The panic-like situation from last year has been replaced by confidence that Europe will get through this winter without any supply issues."
Still, some are warning winter isn't over:
#natgas
Weather models are cooling by the day. European snow cover is forecast over half of Europe including Greece, Italy, Turkey, even Lebanon and North Africa reaching 3 foot of snow. #natgas pic.twitter.com/L5hjnXWgbW

— Heinrich Leopold (@LeopoldHeinrich) January 16, 2023
forecast #polarvortex pic.twitter.com/2rqHLgNv9N

— PV-Forecast (@PvForecast) January 16, 2023
#natgas
To the astonishment of weather forecasters models (Jan17,23,31) are becoming colder and colder in Europe. This is exactly what the weakening of the polar vortex suggests. This will intensify as an historic strong vortex has accumulated a record amount of arctic cold air. pic.twitter.com/jI9txxPD8n

— Heinrich Leopold (@LeopoldHeinrich) January 15, 2023
Tyler Durden
Tue, 01/17/2023 - 07:13