BofA Freezes Hiring On Downturn Risk; Credit Suisse To Pay Bonuses Upfront To Prevent Exodus
Layoffs are rippling across corporate America as the Fed-induced macroeconomic headwinds mount. Earlier today, Microsoft's CEO announced the planned termination of 10,000 employees. Besides tech, some of Wall Street's biggest banks are tightening their belts, citing the risk of a downturn. 
Bank of America Corp. is the latest in the financial industry to implement a hiring freeze, according to Bloomberg, who spoke with people who had direct knowledge of the matter. They said the move is to trim expenses as the bank prepares for a possible recession. 
Chief Executive Officer Brian Moynihan told Bloomberg Television in early December that the bank would slow hiring. So the news today is clear an escalation as Moynihan might be preparing to reduce headcount. 
According to the people, hiring new workers is frozen until the second half of the year or if the economy shows signs of a soft landing. They said units with robust revenue growth would still be open to hiring, including wealth management, trading, business banking, and tech. 
Overall, the headcount at the North Carolina-based bank has bounced between 205,000 and 215,000 in recent years. The bank had 216,823 in 2022, up from 208,248 a year earlier.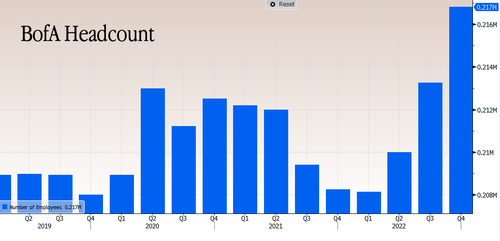 Moynihan has adopted technology in recent years to reduce noncustomer-facing employees. He expects to continue to trim costs in an inflationary environment. 
We've spent the last several months writing about banks freezing or reducing headcount. Goldman Sachs, BlackRock, Morgan Stanley, Credit Suisse, Nomura, and Credit Suisse have been other banks to reduce the sizes of their workforce. 
And let's not forget that Wall Street firms are also cutting their bonus pools significantly. Goldman slashed bonuses by as much as 40% due to weak dealmaking earnings. Bank of America, Citigroup, JPMorgan Chase & Co., and Credit Suisse have been mulling over cuts to bonus pools. 
Credit Suisse Group AG Chairman Axel Lehmann told Bloomberg TV at the World Economic Forum in Davos on Tuesday that its employees should brace for massive bonus cuts after a "horrifying year" for the troubled lender. 
"So I think people will have realistic expectations that it will not look great" for bonuses, Lehmann said. 
"Obviously we had such a poor year. It was a horrifying year for Credit Suisse, so I think people have realistic expectations that it will not look great," says Axel Lehmann https://t.co/70KQRy74hN pic.twitter.com/FgvD1FfqP6

— Bloomberg TV (@BloombergTV) January 17, 2023
Earlier this month, Bloomberg reported that Credit Suisse was considering slashing the bonus pool for 2022 by 50%. This is mainly due to the likelihood of a bad earnings report next month and large client outflows over the last year. 
Bloomberg also reported Credit Suisse is paying bonuses to senior bankers upfront this year to prevent a massive exodus of staff amid restructuring efforts. 
Managing directors and directors in most locations will be paid the cash component of their variable 2022 compensation straight away, according to an internal memo obtained by Bloomberg. Recipients would need to repay the funds proportionally should they leave the bank within three years, according to the memo. The deadline to sign up for the upfront payment is Jan. 30. --Bloomberg 
The memo also stated the bonus pool would be reduced. 
"Our compensation pool will be lower than in previous years," the Executive Board said in the memo. The upfront cash award "allows the bank to recognize the contribution of its senior leaders and to reward loyalty." --Bloomberg 
None of this should come as no surprise amid the uncertain economic outlook produced by Fed Chair Powell's reckless monetary policies. 
Tyler Durden
Wed, 01/18/2023 - 15:10