Bullard Repeats Rates "Almost" In Restrictive Territory, Helps Push Risk To Session Highs
In an almost carbon copy replica of what he said two weeks ago, St Louis Fed president Jim Bullard (who is a non-voter this year) spoke to the WSJ's Fed Mouthpiece Nick Timiraos and said that while US interest rates have to rise further to ensure that inflationary pressures recede, the US is now "almost" in restrictive territory. 
"We're almost into a zone that we could call restrictive - we're not quite there yet," Bullard said Wednesday in an online Wall Street Journal interview. Officials want to ensure inflation will come down on a steady path to the 2% target. "We don't want to waiver on that," he said.
While Bullard didn't specify how he reached his "restrictive" bogey, we remind readers that in his presentation from two weeks ago the Fed staffer showed a bound determined by a "generous Taylor-type rule" according to which the Fed views restrictive as any rate just around 5% and higher.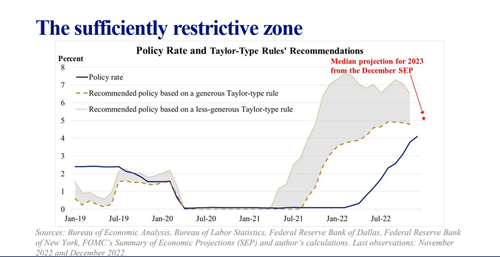 Still, to not be accused of turning dovish, Bullard added his usual hawkish caveat that "policy has to stay on the tighter side during 2023" as the disinflationary process unfolds.
As everyone knows by now, Fed officials are mulling a further moderation in the pace of interest-rate hikes following a cooling in US inflation. Consumer prices rose 6.5% in the 12 months through December, marking the slowest inflation rate in more than a year, Labor Department data showed. Meanwhile, the latest  PPI was a huge miss, and the first time that PPI came in below CPI since 2020.
Bullard, who has emerged as one the most hawkish of Fed officials after being its biggest dove for years, said last week he favored "front-loading" of rate hikes and would like to move to the committee's forecast above 5% as soon as possible. But recent data are giving mixed reports on the US economy. Retail sales fell in December by the most in a year, suggesting consumers are losing some of the resilience; industrial production also tumbled by the most in almost two years.
On the other hand - and arguably the only strong support pillar propping up the economy - US payrolls rose more than expected with a gain of 223,000 last month, while the unemployment rate dropped to 3.5%. And growth was tracking about 4.1%, according to the Atlanta Fed's tracker on Jan. 10. 
Whether he meant to or not, the market was encouraged by Bullard's comment with spoos rising to session highs as the St Louis Fed president spoke.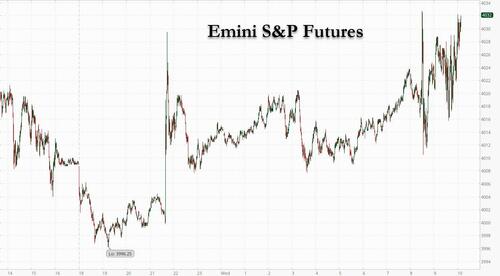 Tyler Durden
Wed, 01/18/2023 - 10:10