Germany Says US Must Lead Way On Tanks For Ukraine, As GOP Also Piles On Pressure
Germany just upped the pressure on the Biden administration regarding growing calls to send Ukraine M1 Abrams tanks, which the White House has thus far resisted, fearing further escalation with Russia.
It comes as Germany just appointed a new defense minister, Boris Pistorius, after scandal-plagued Christine Lambrecht resigned the day prior, after also long being accused of representing weakness on arming Ukraine. The Scholz government said it will be up for the new defense minister to mull the question of tanks for Ukraine, as Kiev's pleas grow louder.
"Germany won't allow allies to ship German-made tanks to Ukraine to help its defense against Russia nor send its own systems unless the U.S. agrees to send American-made battle tanks, senior German officials said on Wednesday," according to fresh Wall Street Journal reporting.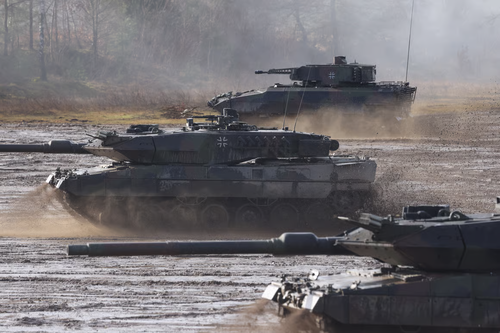 Multiple NATO countries have now expressed their willingness to send the highly sophisticated German-made Leopard tanks to Ukraine, namely, Poland, Denmark and Finland - but Berlin has to sign off on it first.
This month has witnessed for the first time in the 11-month long war growing political momentum to ship Western-made heavy tanks to the Ukrainian battlefield, instead of the infantry carriers and Soviet tanks thus far supplied. 
The German reluctance in approval comes after the opening months of the Russian invasion triggered an about-face in German foreign policy, as Berlin has now abandoned its historic neutrality. "One can't differentiate between direct exports (of German-made tanks) and exports by third countries," a senior German official was quoted in the WSJ report as explaining of Berlin's stance.
But it seems Germany is now clearly signaling that Washington must lead the way in opening the flood gates of a heavy weapons system as significant as tanks onto the Ukraine battlefield. But perhaps it's also calling a US bluff of sorts, essentially telling Biden: 'wanna talk big on Ukraine?... you first'.
The timing of the WSJ's German tank story is interesting, also given the same day top Republican committee chairs in Congress are ramping up the pressure on Biden, demanding that the US approve what are widely seen as 'weapons needed to win' against Russia.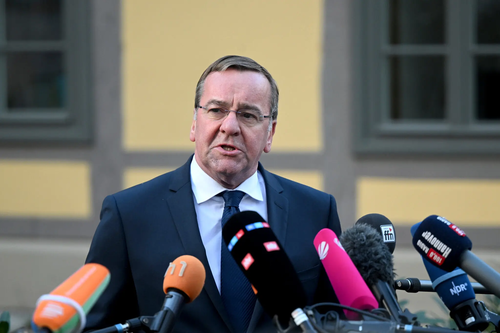 "Leopard 2 tanks, ATACMS, and other long-range precision munitions should be approved without delay," House Foreign Affairs Committee Chairman Michael McCaul and House Armed Services Committee Chairman Mike Rogers said in a statement reported by Bloomberg. The pair of lawmakers at the same time criticized the "current indecision and self-deterrence" which they say will only prolong the conflict.
But Germany's Scholz has consistently expressed a desire to avoid potential direct military escalation with Russia at all costs. Approving tanks would likely plunge Germany deeper in right alongside the US as things continue sliding toward direct confrontation.
Meanwhile, sabotage from Scholz?...
BREAKING:@JulianRoepcke from @BILD reports that Scholz told Biden in a phone call on Tuesday that Germany won't allow Leopard 2 tanks be sent to Ukraine before the U.S. sends Abrams

Biden answered that USA won't send Abrams.

This increasingly looks like sabotage from Scholz pic.twitter.com/F6JTTKwKPM

— Visegrád 24 (@visegrad24) January 18, 2023
But here's what Scholz told his peers at Davos today...
'Ukraine is defending itself with great success and impressive courage.' @OlafScholz (@Bundeskanzler) speaks of Germany's — among other G7 nations' — support for #Ukraine. #wef23 pic.twitter.com/xt0AyCCPTq

— World Economic Forum (@wef) January 18, 2023
"...will support Ukraine for as long as necessary..."
Tyler Durden
Wed, 01/18/2023 - 17:15