Jes Staley 'Personally Observed' Sexual Abuse By Epstein, Victim Claims
A woman suing JPMorgan for facilitating Jeffery Epstein's abuse says that former Barclays CEO Jes Staley "personally observed" the abuse while he was serving as JPM's head of private wealth.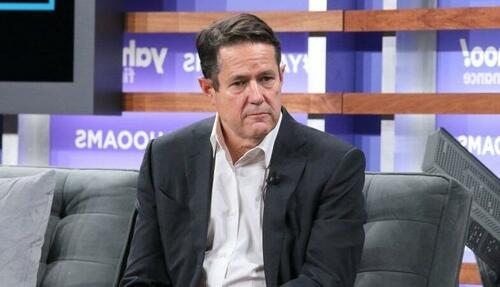 The woman, Jane Doe 1, made the new allegations in an amended complaint filed late Friday in Manhattan federal court. In it, she claims that Staley was a frequent visitor to Epstein's properties - including his New York townhouse 'massage room,' a 'stash house' apartment on Manhattan's Upper East Side, and of course, pedo island in the US Virgin Islands.
While hanging out at Epstein's properties, the former JPMorgan exec "personally observed the sexual abuse of young women, including Jane Doe 1."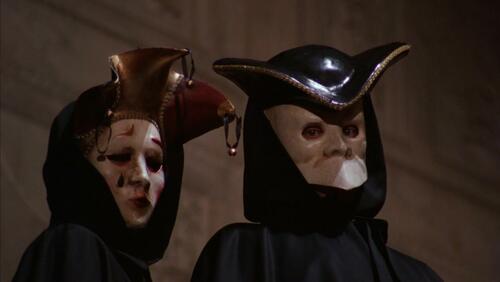 "As a result of Staley's direct and actual knowledge of Epstein's sex-trafficking venture, JP Morgan had direct and actual knowledge of Epstein's sex-trafficking venture," reads the amended complaint.
As Bloomberg notes;
The new allegations seek to bolster the argument that JPMorgan was aware of Epstein's conduct but nonetheless turned a blind eye. The bank has moved to dismiss the suit in part by arguing that it fails to show the bank knew about Epstein's abuse.

Staley left JPMorgan in 2013 and joined Barclays Plc as chief executive officer a few years later. He stepped down from that role in 2021 following a UK regulatory probe into his relationship with Epstein.
Separate lawsuits against JPMorgan and Deutsche Bank allege that the banks knowingly benefited and received things of value for facilitating and supporting Epstein's sex-trafficking network. Both banks have sought dismissal of the claims, and have argued that in addition to having no knowledge of Epstein's conduct, the events in question happened between 1998-2013, and are barred by the statute of limitations.
That said, the plaintiffs in the case - a class action lawsuit, are suing under New York's Adult Survivors Act, which temporarily lifts that statute of limitations. The banks claim it doesn't apply to them.
Staley is also mentioned in a lawsuit brought by the US Virgin Islands against the bank, and notes that Epstein had an 'extensive relationship' with Staley. In an amended complaint of its own, the USVI claims that "Epstein introduced Staley to Glenn Dubin," the owner of Highbridge Capital Management.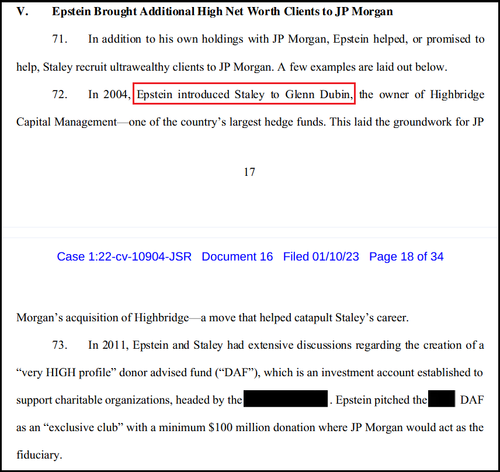 Epstein reportedly received a $15 million fee in 2004 after JPMorgan bought control of Highbridge.
Tyler Durden
Tue, 01/17/2023 - 19:20