Joe Rogan On Biden: "They're Trying To Get Rid Of Him"
Authored by Paul Joseph Watson via Summit News,
During a discussion on his podcast, Joe Rogan suggested the latest scandals surrounding Joe Biden suggested that top Democrats are "trying to get rid of him."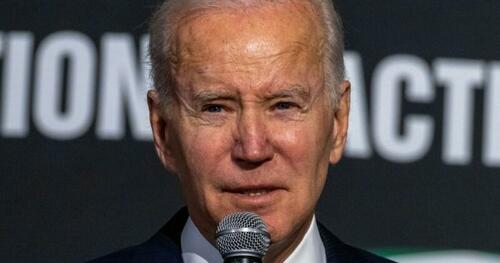 The president has been embroiled in more controversy after it was revealed that at least 20 classified documents relating to his time as vice-president were found at Biden's home.
Biden is now being investigated by a special counsel appointed by the US Department of Justice, having previously called Donald Trump "irresponsible" after his home was raided by the FBI for similar reasons.
According to Joe Rogan, the scandal is part of a Democrat subversion campaign to ensure Biden doesn't try to run for office again in 2024.
"I don't know jack shit about politics, but if I had to guess — they're trying to get rid of him. My guess would be they're trying to get rid of him," said the podcast host.
Joe Rogan predicts Biden's handlers are "trying to get rid of him" before 2024 pic.twitter.com/jbvmLvclOM

— Valiant News (@ValiantNewsLive) January 17, 2023
He was responding to a comment by Shane Gillis, who joked, "It's crazy. He's getting jammed up on like manila folders when he was like kissing 12-year-old girls on camera."
"If all of a sudden they're — his own aides are sending these — instead of like taking these classified documents, which you have located and go, 'Well, let's not do that again' and fucking locking them up somewhere," Rogan added. "His own aides."
Speculation that Biden's own team is trying to sabotage him correlates with previous indications that prominent Democrats fear Biden will get crushed if he tries to run for president again.
Last summer, Rep. Carolyn Maloney (D-NY), who chairs the House Committee on Oversight and Reform, told the NY Times Editorial Board that President Joe Biden won't run for office a second time.
"Off the record, he's not running again," Maloney said.
According to Dick Morris, former top advisor to Bill Clinton, the Democratic establishment knows "that Biden can't run again in 2024" due to his "quickly declining mental abilities" and the economic disaster he had presided over.
An ABC News/Washington Post poll found that the majority of Democrats and Democrat-leaning independents don't want the 80-year-old to be their party's candidate.
Biden would be in his mid-80's by the time he left the White House if he won again in 2024.
*  *  *
Brand new merch now available! Get it at https://www.pjwshop.com/
In the age of mass Silicon Valley censorship It is crucial that we stay in touch. I need you to sign up for my free newsletter here. Support my sponsor – Turbo Force – a supercharged boost of clean energy without the comedown. Get early access, exclusive content and behind the scenes stuff by following me on Locals.
Tyler Durden
Wed, 01/18/2023 - 08:50