"Nothing Short Of Unsustainable": Futures Soar, Yen Tumbles After BOJ Maintains Yield Curve Control
Ahead of today's BOJ decision the market was on edge that one month after the December YCC "huge shock" when the central bank unexpectedly widened its Yield Curve Control band from +/-0.25% to +/-0.50%, in the process sparking a historic surge in the yen and explosion in bond market volatility, that outgoing BOJ governor Kuroda would double down and tweak the BOJ's Yield Curve Control for the second time, especially after a report by Japan's Yomiuri leaked last week that another adjustment was imminent.
And while most economists expected a hold by the BOJ, an unusually high number said they can't rule out an adjustment to yield curve controls like the one that roiled markets last month, which is also why traders were betting on dramatic swings of 2% or more in favor of either the dollar or yen.
In the end, it all ended up being one giant nothinburger, because moments ago the BOJ reported that contrary to its own leaks a week ago, it maintained the YCC as before at 0.50%, while maintaining all other aspects of monetary policy as before (JGB yield target at 0% and policy rate at -0.1%, both targets which are completely incompatible with Japan's soaring inflation). The BOJ also stated its intention to continue large-scale bond buying and to increase them on a flexible basis as it showed its intention to double down on defense of its yield curve control program for now.
While the YCC was the main highlight - and here there were no changes to either the YCC band or targets -  here are details on some of the other aspects of today's BOJ decision:
Extends by one year fund operation to support financial institutions' lending
No change to forward guidance on interest rates
Expands fund supply operation against pooled collateral
Maintains guidance that it will continue large-scale JGB buying, make nimble responses for each maturity
Forecasts:
Core-core cpi median forecast for fiscal 2023 at +1.8%vs +1.6% in October
Core-core cpi median forecast for fiscal 2024 at +1.6% vs +1.6% in October
Real GDP median forecast for fiscal 2023 at +1.7% vs +1.9 % in October
Real GDP median forecast for fiscal 2024 at +1.1% vs +1.5% in October
BOJ Quarterly report"
Prices to deviate upward in fiscal 2024
Uncertainty over japanese economy extremely high
Need to pay close attention to effects of financial, currency market movements on japan's economy and prices
Price outlook skewed to upside
inflation expection is on the rise
heightening of price growth is likely to sustainable price increase involving wage hikes
there's a risk global economy could deviate downward due to capital outflow from emerging markets and tightening of global financial conditions
prices could deviate downwardly as wage hikes won't strengthen as expected
need to pay close attention to impact of elevated global inflation, rapid currency fluctuations on Japan's prices
it takes time but prices will gradually rise towards inflation target on the back of rises in inflation expectations and wage rises
The full text of the BOJ decision can be found here.
So what happened and why did the BOJ just burn through more than $200BN in bond stabilization liquidity over the past month for nothing? Perhaps Kuroda got cold feet after seeing the observing the historic volatility in the JGB market when YCC cracked on several occasions in just the past week, and forced the BOJ to inject record amounts of cash just to keep the JGB market from imploding. Indeed, as shown in the chart below, while Kuroda insisted that December's YCC tweak was aimed to improve market functioning, it only fueled speculation over more changes.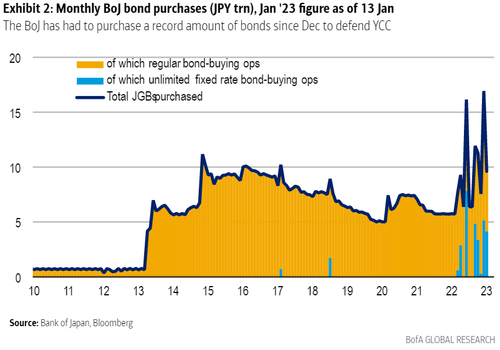 Whatever the reason, the BOJ chickened out, and in the process has only accelerated the inevitable collapse of its own unsustainable policy, and as Vanda Research's Viraj Patel writes, "bond buying is nothing short of unsustainable" and its "only a matter of time before they lose control of JGB markets....Will be an opportunity for JGB bears to go again... '23 forecast for core CPI at 1.8% looks low JPY"
⚠️ No change from BoJ. All down the middle. Good luck Kuroda... bond buying is nothing short of unsustainable. Only a matter of time before they lose control of JGB markets. Will be an opportunity for JGB bears to go again... '23 forecast for core CPI at 1.8% looks low $JPY pic.twitter.com/3blNXPlHmf

— Viraj Patel (@VPatelFX) January 18, 2023
And while the market welcomed today's retreat by the BOJ, with equity futures spiking...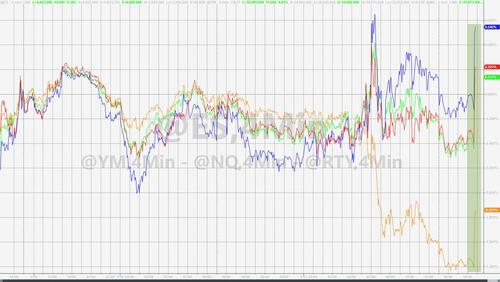 .. alongside bonds...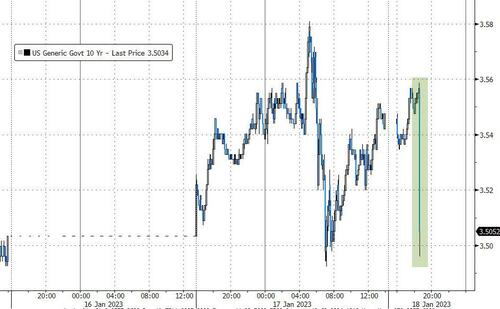 ... while the yen tumbled by over 200pips as the dovish move means the BOJ will have to print and inject trillions more to support the artificially low yield on the 10Y.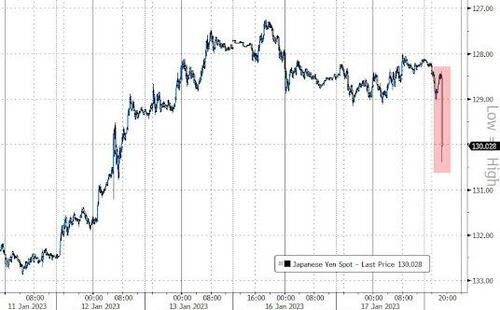 Finally, today's lack of action simply ensures much more volatility in the coming days as bears will aggressively hammer the 10Y sending its yield surging ever higher, which in turn will force the BOJ to intervene even more aggressively, guaranteeing much more fireworks before Kuroda steps down in April.
Tyler Durden
Tue, 01/17/2023 - 22:06