Record-Breaking 20Y Treasury Auction Sends Yields Tumbling
It's not as if the bond market needed another reason to send yields sharply lower after the BOJ last night, and the trifecta of recessionary prints today (huge misses in PPI, retail sales and industrial production) had already hammered yields, but it got it anyway moments ago when today's sale of $12BN in 20Y paper was nothing short of blockbuster with at least one new record set.
The high yield of 3.678% was not only sharply lower than last month's 3.935% and a far cry from the 4%+ auctions in October and November, but also stopped through the When Issued 2.705 by 2.7bps, tied for the third biggest stop through on record in the 20Y auction's history.
The bid to cover was even more remarkable: jumping from last month's 2.68, the January BTC was 2.83, the highest on record and above the previous all time high of 2.80 in April 2022.
The internals were also stellar with Indirects awarded 76.25% just shy of another all time high (hit in July 22 when it came at 78.0%) and with Directs awarded 15.6%, below the recent average of 17.2%, Dealers were left holding just 8.1%, which was also just shy of the record low 7.9% hit in July 2020.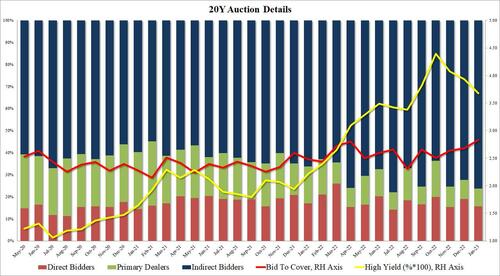 Overall, this was a stellar, record-breaking  20Y auction, and no wonder why the 10Y yield dumped from 3.43% to 3.38% after news of the stellar demand for today's paper hit.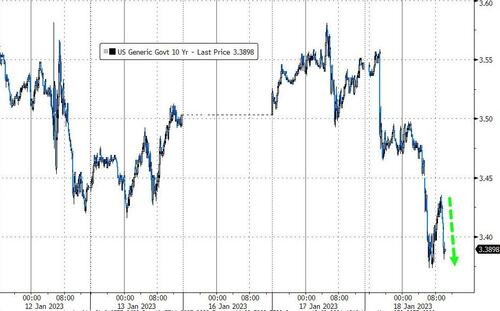 Tyler Durden
Wed, 01/18/2023 - 13:23