Reps. Marjorie Taylor Greene, Paul Gosar Back On Committee Assignments
Authored by Mimi Nguyen Ly via The Epoch Times (emphasis ours),
Two Republican House lawmakers landed committee assignments after having been stripped of them in the previous Democrat-controlled Congress on separate occasions in 2021.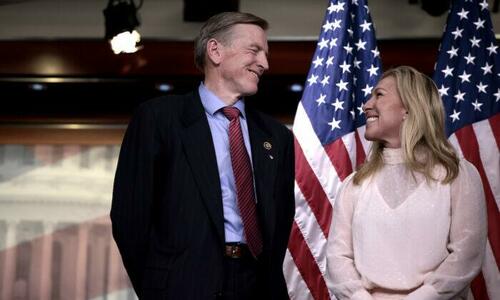 Reps. Marjorie Taylor Greene (R-Ga.) and Paul Gosar (R-Ariz.) had both been stripped of their committee seats in 2021 over social media posts they had made.
Their reinstatement to various committees fulfills a promise by House Speaker Kevin McCarthy (R-Calif.) who said back in November 2021 they would regain their committee posts for the 118th Congress if Republicans win the House.
Both Greene and Gosar are now assigned to the House Committee on Oversight and Accountability, where Gosar had previously served.
Greene is also assigned to the House Committee on Homeland Security, and Gosar will also hold a seat on the House Committee on Natural Resources, where he previously served.
The Oversight committee is expected to be the forefront of investigating the Biden administration. Most recently, committee Republicans began a probe into President Joe Biden's handling classified documents that were found at his office and Delaware home.
The Homeland Security committee makes decisions on laws pertinent to U.S. national security, including on border security, counterterrorism, and cybersecurity, among others. It also conducts Congressional oversight of the U.S. Department of Homeland Security.
The Natural Resources committee looks at legislation regarding energy, mineral and water resources, and national parks and public lands. It also conducts Congressional oversight of the Departments of the Interior, Commerce, and Agriculture.
Greene Vows to Investigate Federal Government
Greene issued statements late Tuesday upon her new assignments. She said the Oversight Committee is arguably "the most important committee [in] this Congress."
"We will return the role of the Oversight Committee to investigating waste, fraud, abuse, and mismanagement of the federal government, which is exactly what the American people are fed up with," she wrote.
"Joe Biden, be prepared. We are going to uncover every corrupt business dealing, every foreign entanglement, every abuse of power, and every check cut for The Big Guy."
She added that Republicans will also "investigate every bit of government being used to abuse the American people, which includes "every three and four letter agency."
On her appointment to the Homeland Security Committee, Green highlighted security issues including a surge in illegal immigration across the southern border, Chinese fentanyl entering the United States via Mexican cartels, and cyber attacks.
"We will investigate the Biden administration's violations of our laws and fund (and defund) programs to defend our border and American sovereignty," Greene said.
Gosar, in an interview with The Epoch Times back in January 2021, had said several Democrats should be stripped of their committee assignments if Republicans win the House. At the time, he singled out Reps. Eric Swalwell (D-Calif.), Rep. Adam Schiff (D-Calif.), Ilhan Omar (D-Minn.), and Maxine Waters (D-Calif.) should be ejected from their committees, citing potential conflicts of interest and other concerns he has with the lawmakers.
McCarthy has previously pledged to oust Schiff, Swalwell, and Omar. Rep. Troy Nehls (R-Texas) announced on Twitter Tuesday: "Speaker McCarthy confirms that Adam Schiff, Eric Swalwell, and Ilhan Omar are getting kicked off the Intel and Foreign Affairs Committees. Promises made. Promises kept!"
How Greene, Gosar Were Removed from Committee Seats
Greene had been stripped of her committee assignments in February 2021 on a vote of 230–199, largely on party lines—just a month after she was sworn into Congress for the first time. At the time, Greene had been assigned to the House Budget Committee and the House Education and Labor Committee.
Democrats cited social media posts she made before she entered office as grounds to remove her. At the time, McCarthy had denounced Greene's past comments but called on House Republicans to vote against the Democratic resolution to take away her committee assignments.
Of concern were posts where Greene had speculated that the Sept. 11, 2001 terror attacks were a false flag and alleged that deadly U.S. school shootings were staged, among other theories. Reports also claimed that Greene had "liked" a Facebook comment suggesting that "a bullet to the head" of House Speaker Nancy Pelosi (D-Calif.) "would be quicker."
Read more here...
Tyler Durden
Wed, 01/18/2023 - 18:55