The Freight Market Has Bottomed
Late last March, FreightWaves CEO Craig Fuller was the first to correctly call the coming freight industry recession, a byproduct of the vicious "bullwhip effect" snapback. Overnight, and a little over 9 months later, Fuller is out with another notable call, arguing that while the freight market recession may still be a factor, it is now on the backfoot as the freight market has "likely bottomed."
The freight market has likely bottomed is the theme of my latest article https://t.co/lcp5UOgyPk

— Craig Fuller 🛩🚛🚂⚓️ (@FreightAlley) January 16, 2023
Below we republish Fuller's latest observations explaining how "High-frequency truckload data suggests the freight market is stabilizing."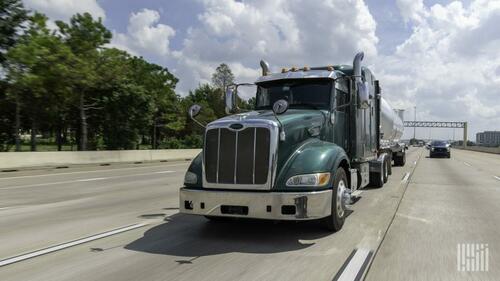 Did the first quarter lull come early, in November and December of 2022? 
For carriers, the first quarter is always the most difficult period in the annual freight calendar, when retailers clear their excess holiday inventory, construction takes a pause for the frigid weather and everything is gloomy and cold. The soft first quarter often follows a robust fourth quarter, in which freight companies enjoy the annual peak season and make an outsized portion of their profits. Carriers look forward to spring for some market stability and potential market accelerations. 
Is it possible that winter came early this year? Did the freight winter start in November and now we are experiencing an early thaw? 
Early freight data and channel checks would suggest the freight market could be stabilizing and clearer skies are ahead. 
Over the past week, we've spoken with numerous freight executives who have mentioned that the first two weeks of the first quarter are shaping up better than expected, granted, expectations were incredibly low after such a weak peak. 
Going into the quarter, executives we spoke with predicted a significant collapse in freight for the first quarter, with a seasoned veteran executive of a large trucking technology firm predicting that the first quarter would be the worst in his four-decade career. It was a fair bet considering how challenging the second half of the 2022 was for most in the freight market.
Truckload spot rates, according to the FreightWaves National Truckload Index, hit a low of $1.67 on Nov. 17, 2022, and have since bounced back to $1.98 per mile.

Trucking tender volumes also suggest that the direst of predictions have not played out. Tender volumes on the Outbound Tender Volume Index (OTVI), an index that tracks the volumes of load requests from shippers to carriers, show that volumes briefly dipped below 2019 and 2020 levels, but they have since broken away from this baseline. 

If the first few weeks of the new year are an early omen, then the freight market may have bottomed in the fourth quarter and carriers can look forward to a far less volatile market in 2023. 
Tyler Durden
Tue, 01/17/2023 - 20:20