Top US General Inspects Expanded Training Program Of Ukrainian Troops
Chairman of the Joint Chiefs of Staff Gen. Mark Milley visited a military base in Germany where expanded US training of Ukrainian personnel is taking place.
Milley's visit came Monday, which was only day two of the new training, and he was there to inspect the program - but also no doubt to send a strong message to Moscow of the Pentagon's resolve. Some 600 Ukrainian troops are being trained by American advisers on various weapons, armored vehicles, tanks, and combat techniques in what's expected to be a five week rotation at the large Grafenwoehr training area.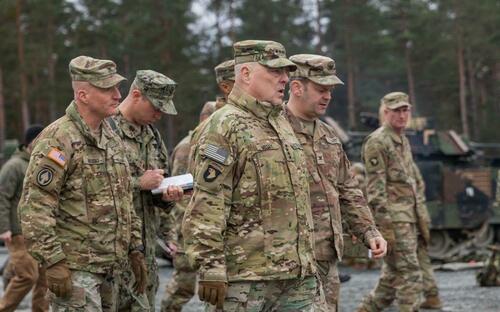 "This is not a run of the mill rotation," Milley told commanders in a briefing during the visit. "This is one of those moments in time where if you want to make a difference, this is it."
But the Associated Press still confirmed severe reporting restrictions meant to safeguard the identities of the personnel present: "The reporters were allowed to follow Milley and watch his interactions with Ukrainian and U.S. troops and commanders, but were not allowed to report specific conversations with the Ukraine forces or take any photos or video." 
The report noted that "The restrictions reflect ongoing U.S. concerns about escalating Russian anger over the West's involvement in the war or triggering a wider conflict."
Even prior to Russia's Feb.24 invasion of Ukraine, limited numbers of Ukrainian troops had undergone military instruction from US and allied trainers at Grafenwoehr. There are also reports of a long-running covert CIA program going back years before the current conflict.
The program is being overseen by the 7th Army Training Command, of which AP details further: 
It will include classroom instruction and field work that will begin with small squads and gradually grow to involve larger units. It will culminate with a more complex combat exercise bringing an entire battalion and a headquarters unit together.
Moscow has held up activities like the Pentagon training Ukrainian troops as evidence that US involvement is growing more direct, and going even beyond a proxy war. Beginning early last month, Russian Foreign Minister Sergey Lavrov said that NATO is now a "direct" participant. 
"As of Dec, the [U.S.] Army in Europe had trained about 3,000 Ukrainian soldiers."

Ukraine is not a member of an alliance with the U.S.! How is this nothing but U.S. war against Russia, with Ukraine as a proxy? We seem a knife's edge away from total war! https://t.co/Hh81soPqy2

— Jeffrey Kaye (@jeff_kaye) January 13, 2023
"You shouldn't say that the US and NATO aren't taking part in this war. You are directly participating in it," Lavrov told a press briefing at the time.
"And not just by providing weapons but also by training personnel. You are training their military on your territory, on the territories of Britain, Germany, Italy, and other countries," he pointed out.
Tyler Durden
Wed, 01/18/2023 - 06:55