Ukraine's Interior Minister Among 16 Killed In Worst Helicopter Disaster Since War's Start
Ukraine's Interior Minister is among three top government officials killed in what marks the country's worst ariel disaster since the war's start. In total 16 people died, including three children and four other bystanders on the ground, given it crashed near a kindergarten in the Kyiv region. 
The crash happened in the city of Brovery on Wednesday. In addition to the fatalities at least 30 were wounded and hospitalized, among them 12 children. The government officials killed were Interior Minister Denis Monastyrsky, First Deputy Minister Yevheniy Yenin and State Secretary Yuriy Lubkovychis, according to confirmation by government statements. Monastyrsky's death marks the highest profile Ukrainian casualty since the Russian invasion began.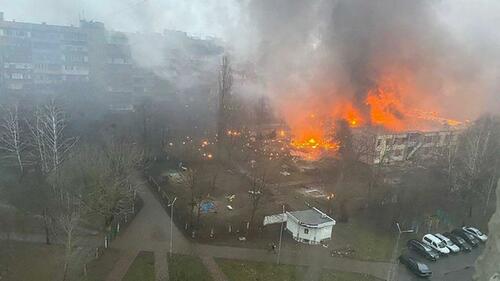 In total there were nine onboard the helicopter, and all six of the passengers were ministry officials being flown by three crew members. There were no survivors. Seven in total were killed when the large helicopter came down on a town neighborhood amid fiery debris.
International correspondents on the ground said there was very low visibility and gray skies, which could help explain Eurocopter EC225 "Super Puma" went down.
"At the time of the tragedy, there were children and the staff in the kindergarten. At the moment, everyone was evacuated," Oleksiy Kuleba, head of the Kyiv Regional Military Administration, described on Telegram.
Ukrainian President Volodymyr Zelensky called the crash "a terrible tragedy," and said he's ordered an official investigation "to find out all the circumstances."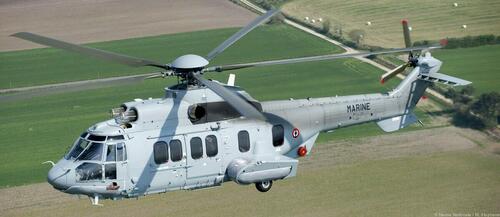 At this point several international outlets are saying there's as yet no evidence to emerge suggesting anything other than an accident, however as BBC details in the following: 
But the SBU state security service said it was following several possible causes for the crash, which included sabotage as well as a technical malfunction or breach of flight rules.

Mr Monastyrsky, who was one of President Volodymyr Zelensky's oldest political advisers, is the highest profile Ukrainian casualty since the war began.

The deputy head of Ukraine's presidential office, Kyrylo Tymoshenko, said the minister had been en route to a war "hot spot" when his helicopter went down.
Such transport helicopters tend to already take significant risks in order to avoid the potential of being targeted or struck by Russian airpower, including the practice of flying at tree-level. There's the additional factor of lack of typical building and street lights due to persistent power outages across the country.
"It was very foggy and there was no electricity, and when there's no electricity there are no lights on the buildings," one local resident told the BBC.
Tyler Durden
Wed, 01/18/2023 - 07:45