Why A Shocking Number Of Crazy-Sounding Right-Wing Conspiracy Theories Turned Out To Be True
Authored by Michael Shellenberger via 'Public' Substack,
"Theory" doesn't mean what you think it means...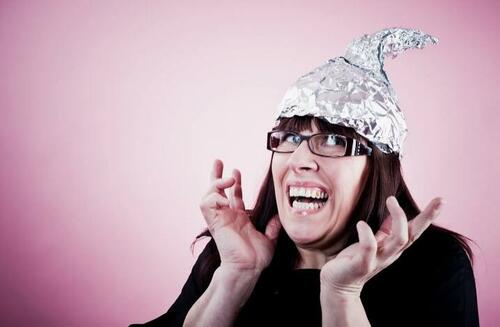 The World Economic Forum, governments around the world, and the mainstream news media are sounding the alarm in Davos about crazy-sounding, right-wing conspiracy theories. And it's easy to see why: conspiracy theories are prima facie silly. The boring truth is that people and institutions are terrible at keeping secrets. 
And yet, a shocking number of crazy-sounding right-wing conspiracy theories have, recently, turned out to be true:
The World Economic Forum really does exercise a creepy influence over world leaders and it really does want "A Great Reset" whereby we'll collectively move to living in low-energy, high-density, and low-privacy environments, having less physical wealth and, yes, eating insects for protein instead of meat. 

The FBI really did spy on Donald Trump's campaign, run brief-and-leak operations, and spread misinformation about the extent of Russian election interference in ways that led nearly all of the media, media platforms, and Democrats to believe that Hunter Biden's laptop was fake and anyone who talked about it is a conspiracy theorist, and in a way that may have constituted election interference.

Facebook and Twitter really did censor accurate covid information at the behest of the White House and Twitter, and operate secret blacklists to censor and deplatform disfavored voices and opinions, even when their own internal teams said the people being censored had not actually broken any of the platform's rules.
The people who allege that the above were, and remain, "conspiracy theories," say that World Economic Forum is just a gabfest, the FBI was simply doing what bipartisan majorities in Congress and the President agreed was necessary after Russian election interference on the 2016 elections, and government officials and social media executives were doing the best they could with the information they had during a fast-moving pandemic where millions of lives were at stake.
But if the World Economic Forum is a gabfest, it is also, including in its own opinion, enormously powerful, with its founder, Klaus Schwab, playing a mysteriously large role within the G-20 organization of world leaders.
Russian influence over the 2016 election was massively overstated, and the FBI went far beyond what Congress and the President asked and appears to have carried out an orchestrated campaign to deliberately misinform the media and social media platforms about the Hunter Biden laptop, which it had in its possession. 
And while Monday morning quarterbacking on covid often goes too far, it's also the case that Twitter and Facebook censored qualified people who were expressing a reasonable point of view about the vaccines and suppressed factually-accurate vaccine information.
What's more, all of the above raise significant concerns about the current state of Western democracy.

A rich, secretive, and unelected person, Klaus Schwab, is exercising a weirdly large influence over world leaders on the Left and Right, from Prime Minister Justin Trudeau to UK Prime Minister Rishi Sunak. 
The FBI, the most important law enforcement organization in the world, is under the control of people who have shown great comfort in abusing the warrant process, leaking to the press, and influencing journalists and social media executives in what appears to be deliberate influence operations, known as IOs, and which used to be known as psyops. 
And everybody from Davos to the White House to the mainstream corporate news media are using claims of "disinformation" and "misinformation" whether coming from Russians, 4chan, or Harvard professors, as excuses to censor social media platforms.
Why is that, exactly? Why did so many crazy-sounding right-wing conspiracy theories turn out to be true? And why are the elites behaving so undemocratically?
...
The control of publicly-available information over the last 10 years by WEF, the White House, and intelligence agencies including the FBI has been remarkable. Cushy gabfests like the ones in Aspen and Davos are effective in making journalists subservient to elites. The ability of government agencies like the White House and FBI to abuse their power is particularly strong when they have the support of the majority of the public, as was the case with Covid and with Trump, whose support hovered between just 35 and 45 percent. And the centralization of power in a small number of social media sites — mostly Facebook and Twitter — created an opportunity to bully politicians and government officials to deprive hundreds of millions of people of true information and feed them false information.  
But all of the above are retrograde attempts to put the Internet genie back in the bottle and thus doomed to fail. The takeover of Twitter by Elon Musk showed how fragile the control of social media platforms was. Musk not only made public just how much control the FBI exercised over Twitter, he also has destroyed the older blue checkmark verification system that biased the whole system toward woke-WEF ideology, or what Martin Gurri calls the "one-sided politics of identity and ecology."
...
Change is coming. A growing number of people understand that they must pay for news and information from trustworthy and independent sources, ones without financials conflict of interest, and who make their values and beliefs explicit, rather than hide them...
*  *  *
Tyler Durden
Wed, 01/18/2023 - 20:15