BlackRock Caves To DeSantis Over ESG
BlackRock has come to an agreement with the state of Florida after Governor Ron DeSantis (R) declared that asset managers overseeing some of the state's $220 billion+ in pension funds cannot employ environmental, social and governance (ESG) investment strategies, according to Bloomberg.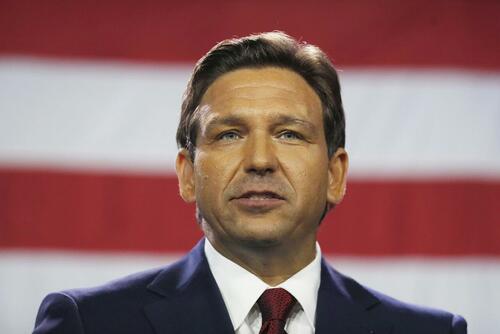 DeSantis and other trustees of the state authority running Florida's pensions formally changed the plans' policies on Tuesday to say that decisions surrounding investments "must be based only on pecuniary factors" which do not take into account "social, political, or ideological interests."
"To the extent that BlackRock has complied with the governor's directives to abandon ESG metrics, we appreciate this and celebrate this win for Floridians," said DeSantis press secretary Bryan Griffin.
The effort by DeSantis began in August, when he banned state pensions from investing in ESG strategies. In response, Florida's State Board of Administration began updating contracts with investment managers.
"The SBA continuously evaluates all managers, and they are all held to the same exacting standards in delivering returns and performance," reads a statement.
Besides BlackRock, the world's biggest asset manager, dozens of other firms manage Florida's pensions, including Morgan Stanley, Schroders Plc and Artisan Partners, according to filings.

BlackRock, which managed about $13 billion in Florida pension funds as of December, said it's "committed to the SBA's mandate of prioritizing financial performance consistent with their investment objectives," according to a statement. -Bloomberg
The agreement between BlackRock and Florida also follows an announced move last year by state CFO Jimmy Patronis, who said he was pulling $2 billion in state funds out of the money manager - which he accused of using Florida's pensions to fund a "social-engineering project." He advised the SBA to remove the firm as one of its asset managers as well.
On Tuesday, BlackRock CEO Larry Fink said the ESG issue has turned "ugly."
Tyler Durden
Thu, 01/19/2023 - 18:45