Chicago Mayor Admits 'Mistake' After Student Bribery Scandal
Chicago Mayor Lori Lightfoot admitted to making a 'mistake' after getting caught red handed illegally seeking help from students to aid her reelection campaign in exchange for class credits.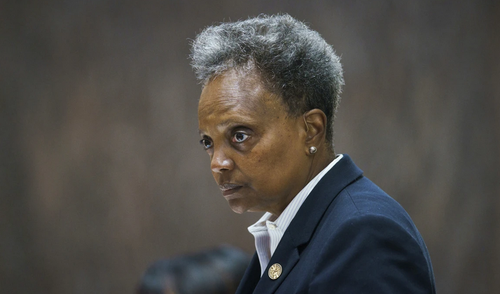 In an email to Chicago Public Schools teachers last Wednesday, Lightfoot asked teachers to encourage students to volunteer to help her with a second term as mayor in what she called the "externship program."
Students would be expected to contribute 12 hours per week to the Lightfoot campaign, for which students could earn "class credit," WTTV reported.
"We're simply looking for enthusiastic, curious and hard-working young people eager to help Mayor Lightfoot win this spring," read the email.
After WTTV News reported on the email, Lightfoot's campaign scrambled to do damage control - saying they would "case contact with CPS employees" out of an "abundance of caution."
Lightfoot herself said the attempt to bribe students was "simply a mistake."
After her campaign was caught sending e-mails to Chicago Public Schools teachers asking them to offer extra credit to students who volunteered to get her re-elected, Chicago Democrat Mayor Lori Lightfoot now says it "was simply a mistake." pic.twitter.com/dPVACIzOyJ

— RNC Research (@RNCResearch) January 15, 2023
Now, the Chicago Public Schools inspector general is investigating the matter, according to NBC News.
Meanwhile, Lightfoot's Mayoral opponents are pouncing.
The email comes just as a nine-way mayoral battle is underway and Lightfoot is facing formidable opponents, including Rep. Jesus "Chuy" Garcia of Chicago and Paul Vallas, a former superintendent of Chicago schools. 

Vallas called for a thorough inquiry into the extent of the campaign's involvement, including whether someone shared government email lists with a political entity. 

"I cannot believe CPS did this without some kind of clear message from City Hall," he said. 

Another mayoral hopeful, Chicago Alderman Sophia King, said the email in and of itself was the kind of thing that "gives Chicago a bad name."

"I really think this is egregious, and if she had anything to do with this she should step down," King said of Lightfoot. -CBS News
In more damage control, the Lightfoot campaign has issued several statements stating that campaign staff have "been reminded about the solid wall that must exist between campaign and official activities and that contacts with any city of Chicago, or other sister agency employees, including CPS employees, even through publicly available sources is off limits. Period."
Tyler Durden
Thu, 01/19/2023 - 17:25