Medvedev Warns Russia's Defeat In Ukraine Would Mean Nuclear War
Outspoken former Russian president and current deputy chairman of the security council Dmitry Medvedev has issued his latest stark warning to the West on Thursday, saying that if Russia is on the brink of defeat, nuclear war is likely to follow. He made the comments in a post on the Telegram messaging app. "The defeat of a nuclear power in a conventional war may trigger a nuclear war," he began.
"Nuclear powers have never lost major conflicts on which their fate depends," the former president, who in prior years had actually been seen as more dovish when compared to Putin, added. Medvedev's comments came in reaction to news of a major meeting of Western defense leaders set for Friday at Ramstein Air Base in Germany.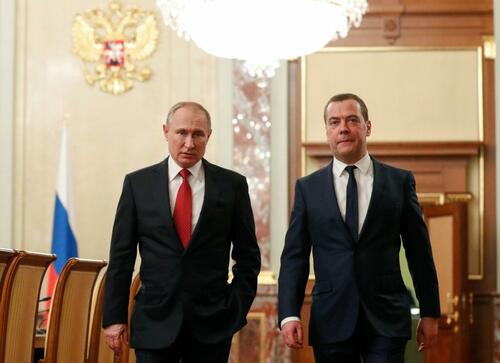 "Tomorrow, at NATO's Ramstein base, the great military leaders will discuss new tactics and strategies, as well as the supply of new heavy weapons and strike systems to Ukraine," he wrote.
The meeting in Germany is expected to involve military commanders and officials from some 50 countries, the bulk of them being from NATO, and will seek to gain consensus on moving forward in terms of military and strategic support for Ukraine.
Central to the discussion will be whether or not to provide heavy tanks and longer range missile systems, and there's also the question of aircraft, given Zelensky's persistent request to help "close the skies". 
According to at least one prominent international outlet, the Kremlin has backed Medvedev's ultra-provocative nuclear remarks as Western allies gear up for the Friday meeting: 
The Kremlin was quick to endorse Medvedev's remarks, saying they were in full accordance with Moscow's principles.

Moscow's doctrine allows for a nuclear attack after "aggression against the Russian Federation with conventional weapons when the very existence of the state is threatened".
Medvedev hasn't been shy about raising the specter of nuclear Armageddon throughout much of the 11-month conflict. He typically gives voice to the Kremlin's 'worst case' - or most escalatory - way of thinking in response to the West escalation. His words often represent the 'big stick' approach from Moscow's point of view.
Backward political good-timers in Davos reiterated: "To achieve peace, Russia must lose". None of them gets it that a nuclear power's loss of a conventional war can lead to a nuclear one. Nuclear powers haven't been defeated in major conflicts crucial for their destiny

— Dmitry Medvedev (@MedvedevRussiaE) January 19, 2023
Regardless of these fresh severe warnings, there's growing consensus among Western powers that Ukraine needs heavy tanks. At the moment, all eyes are on Washington and Berlin, also while new German Defense Minister Boris Pistorius takes his post:
US Defense Secretary Lloyd Austin has said Berlin remains one of Washington's most important allies at his first meeting with his new German counterpart before crunch talks on supplying German-made tanks to Ukraine.

"I'd like to thank the German government for all that it has done to strengthen Ukraine's self-defense," Austin said at the start of his talks with Boris Pistorius.
Additionally NATO's Jen Stoltenberg said Thursday when speaking about the Ukraine war, "weapons are the way to peace."
Calling things "Orwellian" is a bit of a cliche. But come on. This is like "Orwell for Dummies" https://t.co/dJvsgNRrQN

— Michael Tracey (@mtracey) January 19, 2023
It's increasingly looking like whatever comes out of the Ramstein meeting on Friday will determine the future course of the war - and whether de-escalation is at all possible at this point, given the mood among NATO allies definitely suggests they are gearing up for a bigger fight.
Meanwhile, the mood in Moscow...
⚡️Pantsir-S1 anti-aircraft systems being placed on the roof of building in Moscow.

Is this the plan? pic.twitter.com/FLA96HXxrP

— War Monitor (@WarMonitors) January 19, 2023
Seems the Kremlin is getting nervous.
In Moscow a Pantsir-S1 anti-aircraft missile system was put on the roof of 8 Teterynskyi Lane. pic.twitter.com/JasZ2WpYh7

— Robert van der Noordaa (@g900ap) January 19, 2023
Tyler Durden
Thu, 01/19/2023 - 15:00