Pro Hockey Player Takes Rare Stand Against Woke NHL
Over the past year or more, hockey fans have been scratching their heads as the National Hockey League continues down its path of seeking to become the wokest of the woke in professional sports.
After all, one wonders what any of this actually has do with hockey...
Education is celebration.#Pride | @GiantFood pic.twitter.com/Grqtg03x1L

— Washington Capitals (@Capitals) January 17, 2023
Philadelphia Flyers defenseman Ivan Provorov has stirred controversy and received severe backlash among LGBTQIA++ activists for apparently having enough, and taking a stance against the climate of fear and intimidation meant to impose conformity.
He refused to participate in the team's annual "Pride night" celebration on Tuesday before playing the Anaheim Ducks.
"Provorov didn't participate in pregame warmups when the team wore Pride-themed jerseys and used sticks wrapped in rainbow Pride tape," Fox News reports. The longtime professional player cited "his Russian Orthodox religion as the reason why he didn't participate."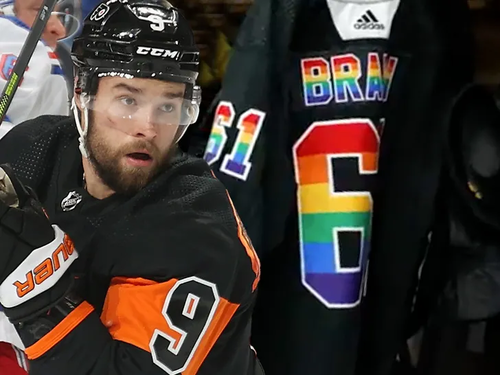 "I respect everybody and I respect everybody's choices," he said when asked about his stance by reporters after the game. "My choice is to stay true to myself and my religion. That's all I'm going to say."
Now under fire for allowing Provorov to play in the game that night, Flyers coach John Tortorella explained he thought it would be unfair to bench him merely for his beliefs. "I think the organization has sent out a release regarding the beliefs that we have," Tortorella said.
"It was really a great night. With Provy, he is being true to himself and to his religion. This has to do with his beliefs and his religion. That is one thing I respect about Provy, he is always true to himself, so that's where we're at with that." As expected, the activists pounced...
Let me get this straight, you have a player that OPENLY declines to participate in an inclusive initiative for a community I am proud to be a part of. And you still dress him in the game? Be better @NHLFlyers https://t.co/rSyV6D35Oo

— Erin Ambrose (@ambrose_13) January 18, 2023
Olympic gold medalist Erin Ambrose said Provorov shouldn't be allowed to "OPENLY" dissent and still be able to play. This was followed by an avalanche of online and media criticism directed at Provorov and the Flyers decision-making generally. 
The incident is yet more confirmation that in the land of the woke, nothing is ever enough, and total conformity and obedience is expected. A person cannot so much as "stay true to oneself" or have "choice" in the matter. Here's the NHL lecturing the public on what they must believe in terms of language, biology, and "reality":
Trans women are women. Trans men are men. Nonbinary identity is real.

— NHL (@NHL) November 22, 2022
* * *
And here's Provorov addressing the controversy after the game, with this epic quote underscoring the sad state of woke professional sports:
"If you have any hockey questions I would answer those..."
#Flyers Ivan Provorov on his Pride Night pregame boycott :
"My choice is to stay true to myself and my religion." pic.twitter.com/YSFKvkyEJC

— Dan Gelston (@APgelston) January 18, 2023
Tyler Durden
Wed, 01/18/2023 - 21:55