"Reports Of Gold's Death Are Greatly Exaggerated": BofA
Gold posted a small gain in 2022, and it was one of the best-performing assets of the year. Nevertheless, there has still a perception in the mainstream that gold is dead. But that perception may be changing. In a recent note, Bank of America commodity strategist Michael Widmer said gold will be a "mainstay" in portfolios over the next several years.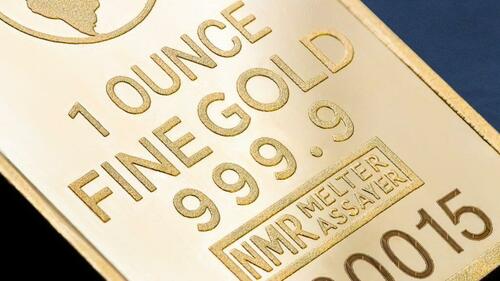 The yellow metal faced significant headwinds in 2022. The Federal Reserve's "war on inflation" meant higher interest rates and a strengthening dollar. Widmer said these dynamics have "prompted some soul-searching among market participants" when it comes to gold.
However, we think calling the death of gold is premature."
Widmer said he is bullish on gold in 2023 and he thinks the bullish environment will persist for several years.
The macro backdrop is turning bullish gold; taking a longer-term perspective, our analysis also confirms that the yellow metal can be a potent portfolio diversifier."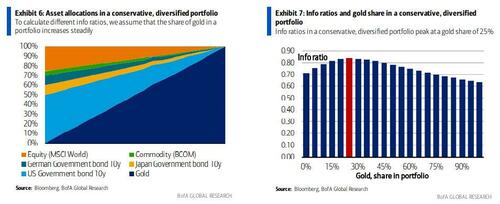 What exactly is that macro backdrop? Bank of America head of US economics Michael Gapen said he anticipates a mild recession in 2023 and that easing inflation will allow the Federal Reserve to pivot away from its tight monetary policy.
We anticipate the recession will be mild by historical standards, lasting two to three quarters before resolving by the end of the year. With inflation falling and unemployment rising, we think the Fed could begin to cut its policy rate beginning in December 2023."
Peter Schiff agrees that there is a good chance the Fed will cut rates this year. And he thinks there is an even better chance the central bank returns to quantitative easing, whether it cuts rates or not. But Schiff said the Fed won't pivot for the reason mainstream analysts such as Gapen think. It won't be because of a victory in the war against inflation.
No. They're going to surrender. Inflation is going to win that war. The Fed is going to run to fight another battle — at least it's going to try to fight because it's going to lose that battle too. That battle is going to be recession, maybe financial crisis, maybe a battle to try to prop up the US government whose insolvency is becoming a bigger problem with rising interest rates."
But no matter the reason, any Fed pivot is bullish for gold, and that's why Wilmer thinks investors will have renewed interest in the yellow metal.
Gold is a non-yielding asset, so tighter monetary policy raises opportunity costs, which in turn does not provide an incentive to increase exposure to the yellow metal. This has been a reason why price movements have been so muted in 2022. That said, we outlined in the past week that the macro-economic backdrop is now increasingly bullish gold, which meant that outflows from ETFs have subsided."
With the big run-up of bitcoin over the last couple of years, many people proclaimed gold was dead. But Wilmer noted that gold and crypto are now following very different trajectories and have become essentially uncorrelated.
...gold and cryptocurrencies have sometimes been seen as competing for investor attention, with concerns that assets like Bitcoin (BTC) could cannibalise liquidity from the gold market.

Of course, both crypto and gold can be a means of payment, a store of value and are "no-man's liability".

We agree that BTC and gold share some similarities, but with various caveat, for instance around performance differentials. Meanwhile, with emissions becoming a focus, we highlight that the environmental damage from mining BTC relative to its value has been much larger than for gold.

Bottom line: the blockchain technology is evolving fast and there is more to crypto than BTC. Yet, for now, we think Bitcoin is not a direct challenger to gold.
The BoA note also referenced the recent surge in central bank gold buying and pointed out that some countries are diversifying away from the dollar. Gold can serve several functions, including serving as a means of payment and a store of value. It also mitigates counterparty risk.
With the world becoming multi-polar, the latter point is important for central banks, especially in emerging markets. To that point, in the run-up to the war in Ukraine, Central Bank of Russia had reduced USD holdings while at the same time boosting exposure to gold."
While I find Bank of America's macroeconomic analysis lacking, we end up drawing the same conclusion – the Federal Reserve will take its foot off the accelerator and return to loose monetary policy. After all, the global economy is built on easy money, debt, and money creation. It simply can't operate without it. As Jim Grant said, "Certainly, the slowing rate of the rise in inflation is to be celebrated. It's nice, but we are still left with a system that is inherently inflationary."
At the end of the day, inflation and loose monetary policy are bullish for gold.
Tyler Durden
Thu, 01/19/2023 - 10:55