SBF's Clinton Ties Helped Disgraced Crypto King Dupe Investors
The relationship between FTX founder Sam Bankman-Fried and the Clintons helped him to boost credibility before his firm imploded.
Bankman-Fried, or SBF, is accused of eight criminal charges, including conspiracy to commit money laundering, conspiracy to commit wire fraud on customers and lenders, conspiracy to commit commodities and security fraud, and separate wire fraud on customers and lenders.
And as the NY Post reports, a close relationship with the Clintons helped SBF to dupe investors.
Bill Clinton was paid north of $250,000 when he spoke at the disgraced FTX CEO's Crypto Bahamas Conference in April, sources told The Post. At the over-the-top tropical shindig, the ex-US president along with former UK Prime Minister Tony Blair were famously photographed onstage next to Bankman-Fried, who appeared wearing shorts and a T-shirt.

Shortly thereafter, Bill and Hillary Clinton invited the 30-year-old Bankman-Fried — known as "SBF" in crypto circles — to speak at their annual Clinton Global Initiative in New York — an effective endorsement of the former FTX CEO that played a pivotal role in elevating his reputation among politicians and deep-pocketed investors alike, insiders told The Post. -NY Post
To promote the Clinton event, SBF's photo was featured on the Clinton Foundation website next to notables such as Matt Damon, Gavin Newsom, Melinda French-Gates and Larry Fink.
People close to the Clintons say it was a typical quid-pro-quo between the Democratic power couple and SBF; up and coming business leaders gain credibility by riding the Clinton coattails - and then the Clintons get a check.
"The Clintons' involvement gave SBF some air cover," said one former confidante in a statement to the Post.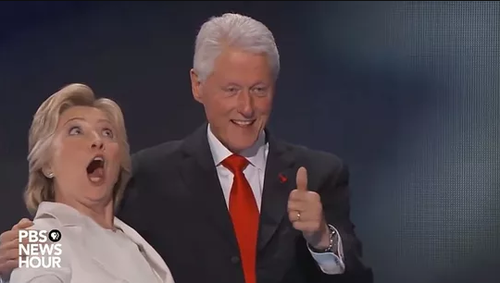 And while many politicians have returned donations from SBF and other FTX executives, it's been crickets from the Clintons - with critics saying it's 'unseemly' for Bill Clinton to hold on to the $250,000 speaking fee he received when thousands of investors have lost their retirement accounts and savings in the implosion. 
"I don't think every public figure has to give back every dollar from every tarnished source, but it's obviously wrong to hold onto money the orchestrator of a Ponzi scheme paid you to lend their grift credibility," said Jeff Houser, director of progressive corruption watchdog, the Revolving Door Project.
"They should just apologize and give the money back now," another insider told the Post, adding "It's only going to get messier."
Tyler Durden
Thu, 01/19/2023 - 18:05