Supreme Court Probe Unable To Identify Who Leaked Roe v Wade Decision
The Supreme Court says a team has been unable to find the person responsible for the leak of a draft majority opinion overturning Roe v. Wade:
They have conducted 126 formal interviews of 97 employees, all of whom denied disclosing the opinion.

Despite these efforts, investigators have been unable to determine at this time, using a preponderance of the evidence standard, the identity of the person(s) who disclosed the draft majority opinion in Dobbs v. Jackson Women's Health Org. or how the draft opinion was provided to Politico.

Investigators continue to review and process some electronic data that has been collected and a few other inquiries remain pending.

To the extent that additional investigation yields new evidence or leads, the investigators will pursue them.
SCOTUS asked 97 employees if they leaked Roe V Wade, and all said no.

Well, time to close the probe, clearly nothing more can be done here.

— zerohedge (@zerohedge) January 19, 2023
This finding is somewhat odd considering less than a week ago, The Wall Street Journal reported that Supreme Court investigators probing the May leak of Justice Samuel Alito's draft opinion overruling Roe v. Wade have narrowed their inquiry to a small number of suspects including law clerks, but officials have yet to conclusively identify the alleged culprit, people familiar with the matter said.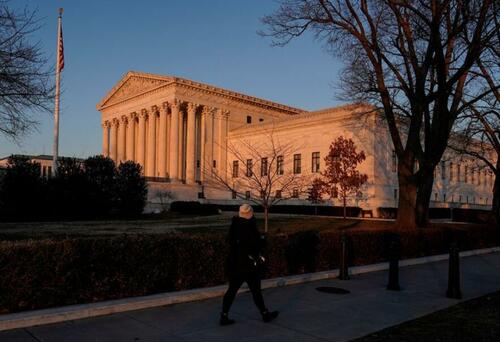 Congressional Republicans have complained about the lack of information regarding the source of the leak.
"For some reason this individual has certainly been sheltered and there is absolutely evidence that there are specific people who know who this person is," Rep. Scott Fitzgerald (R., Wis.) said at a House Judiciary Committee hearing in December, when Democrats controlled the chamber now under Republican leadership.
At the same hearing, Rep. Jim Jordan (R., Ohio), now the House Judiciary Committee chairman, said the committee should itself investigate the leak.
As a reminder, the leak came amid rumors that Chief Justice Roberts was seeking to persuade some members of the court's conservative majority to join him in a half-step that would partly curb access to abortion, rather than fully eliminating the right, which women had held since the 1973 Roe decision, to end unwanted pregnancies before fetal viability.
Could the leaker have been Roberts? That would explain why they can't disclose the 'leaker', since it would destroy any trust left in the nation's most sacred institution.
It's ridiculous to believe they could not figure out who leaked it. Of course they know, it's just that by identifying the culprit it would upend the court. Which SCOTUS justice do you think leaked it? It'd have to be the one who cares the least about the institution.

— Brian Doherty (@BDOH) January 19, 2023
Read the full report below:
Tyler Durden
Thu, 01/19/2023 - 14:25