"Another Difficult Month For Buyers": US Existing Home Sales Suffer Biggest Annual Drop Ever
US existing home sales dropped for the 11th straight month in December (-1.5% MoM - slightly less than expected thanks to downward revisions of previous months), leading to a record 34% drop year-over-year (worse than the worst drop during the Great Financial Crisis)...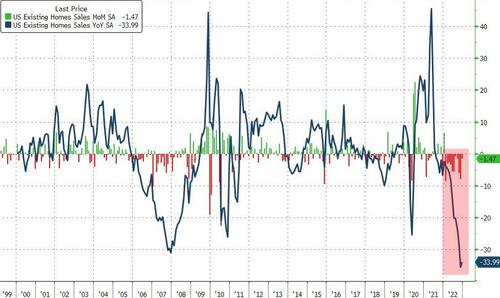 Source: Bloomberg
Sales of single-family homes dropped 1.1% from a month earlier to a 3.6 million pace, also the lowest since the end of 2010.
Existing condominium and co-op sales were down 4.5%
That is the longest monthly streak of sales declines in history which dragged the Existing Home Sales SAAR down to 4.02mm, its lowest since Nov 2010 (below the worst month of the COVID lockdowns)...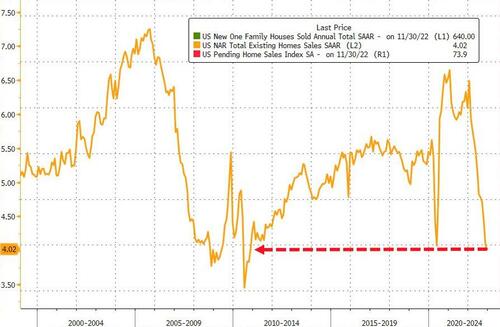 Source: Bloomberg
This disappointing drop in existing home sales happened despite the fact that mortgage rates have now fallen for three straight months...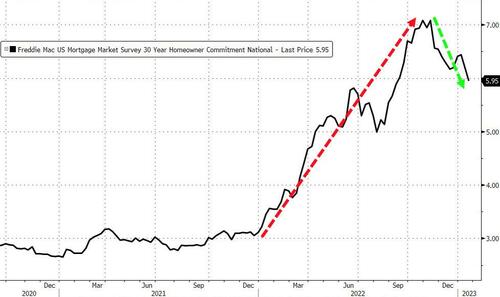 Source: Bloomberg
...but obviously remains extremely elevated (still above 2008 levels).
"December was another difficult month for buyers, who continue to face limited inventory and high mortgage rates," Lawrence Yun, NAR's chief economist, said in a statement.

"However, expect sales to pick up again soon since mortgage rates have markedly declined after peaking late last year."
The number of homes available for sale fell to 970,000 in the month, the fewest since March.
It would take 2.9 months to sell all the homes on the market, up from 1.7 a year earlier. Realtors see anything below five months of supply as indicative of a tight market.
However, focusing on just single-family home inventories, the US is at 3.4 months supply - the highest since COVID...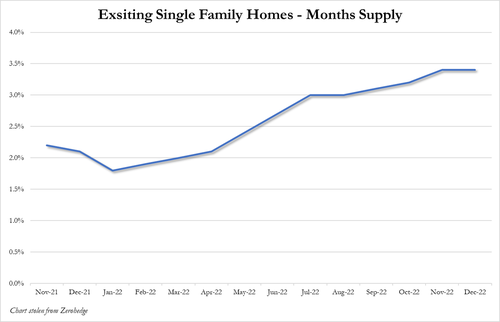 Under the hood, The West saw sales unchanged while the rest of the regions saw sales slide:
Existing-home sales in the Northeast slid 1.9% from November to an annual rate of 520,000 in December, down 28.8% from December 2021. The median price in the Northeast was $391,400, an increase of 1.6% from the prior year.

Existing-home sales in the Midwest fell 1.0% from the previous month to an annual rate of 1.01 million in December, falling 30.3% from one year ago. The median price in the Midwest was $262,000, up 2.9% from December 2021.

In the South, existing-home sales slipped 2.2% in December from November to an annual rate of 1.80 million, a 33.1% decrease from the previous year. The median price in the South was $337,900, an increase of 3.5% from this time last year.

At an annual rate of 690,000, existing-home sales in the West were unchanged from November but down 43.4% from one year ago. The median price in the West was $557,900, an increase of $200, or less than a tenth of a percent from December 2021.
Notably, 14.5% of all home sales in West are $1MM+ vs just 1.2% in the Midwest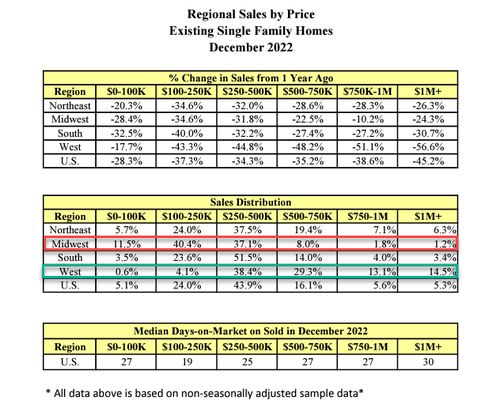 The median selling price was up 2.3% from a year earlier to $366,900, reflecting higher prices in all regions, but is falling on a monthly basis for the last six months...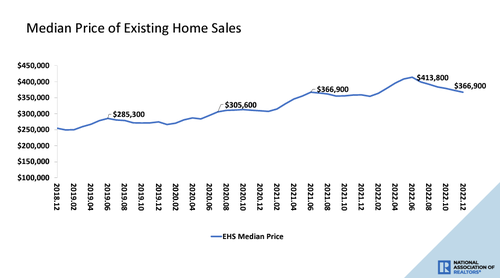 "Home prices nationwide are still positive, though mildly," Yun added.

"Markets in roughly half of the country are likely to offer potential buyers discounted prices compared to last year."
Properties typically remained on the market for 26 days in December, up from 24 days in November and 19 days in December 2021.
Is this enough pain for Powell?
Tyler Durden
Fri, 01/20/2023 - 10:11