Didi's App Is Officially Back On Chinese App Stores
Ride sharing app Didi has officially returned to the main app stores in China, according to a Friday morning note by Bloomberg. It marks a definitive step forward for the company after it was throttled by Beijing years ago during a sweeping crackdown of Chinese technology names. 
And this go-round, it looks like Didi has Beijing's tradewinds at its back. Marking a potentially even closer relationship to the government, the report also notes that China will be launching a "government-backed app to integrate a variety of services", including ride-hailing, that will incorporate Didi. 
Recall days ago we noted when Beijing gave Didi the nod to start signing up new users again. Didi was made the poster child for a Beijing-led crackdown on China's internet industry. The decision to allow Didi to continue operating is being hailed as a "clear sign" that Beijing is prioritizing re-starting the country's economy after locking down for Covid. 
Didi's app had been removed from app stores in 2021. Didi has long been compared to Uber in China, but most recently became famous alongside of the halted Ant Group Co.'s IPO as a symbol of China's crackdown on its internet industry. 
The crackdown on Didi came after the company "pushed ahead with a $4 billion-plus US initial public offering against Beijing's wishes". It is being speculated that now, with the resumption of signing up users, the company may eventually list in Hong Kong.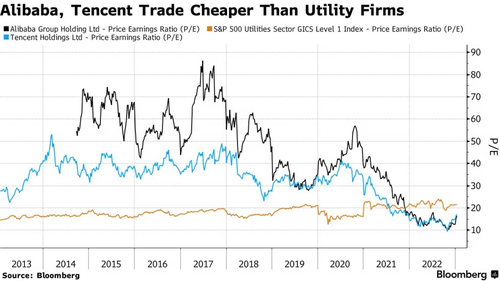 Bloomberg Intelligence analyst Catherine Lim said in a report last weekend: "The relaunch of Didi apps supports earlier indications from Beijing that required reforms within local technology sector are near-completion. Disruptions to the operations of tech giants such as Alibaba, Tencent should be minimal in 2023."
It may also see Didi stock - which had traded on the over the counter markets - once again attempt an uplisting in the United States. 
Combined with recent concessions made regarding Ant Group, it sends a signal that the government may be easing up on the industry as a whole. Guo Shuqing, party secretary of the People's Bank of China, has alluded to the regulatory clampdown drawing to a close, Bloomberg wrote. 
Didi is the latest in a list of signs that show China is prepping to unleash its economy coming out of this round of Covid lockdowns. As Bloomberg noted, this week China also "released the first batch of 88 domestic game approvals in 2023" and said it will "'moderately' front-load infrastructure investment" this year.
Is it time to once again get bullish on China?
Tyler Durden
Fri, 01/20/2023 - 18:00