Germany Says 'Nein' On Tanks At Allies' Big Ramstein Meeting
Is that a definitive nein on tanks? New German Defense Minister Boris Pistorius in fresh statements has confirmed that defense leaders gathered for a much anticipated meeting in Ramstein failed to achieve consensus on tanks for Ukraine. 
US Defense Secretary Lloyd Austin was present for the meeting which reportedly involved top military officials from some 50 nations, most of them NATO, who met to coordinate the path forward in arming Ukraine. There's been intense, uneasy back-and-forth this week between Berlin and Washington on the question of supplying Western-manufactured heavy tanks to Kiev, namely the Leopard as well as M1 Abrams. Hawks among the alliance have seen Berlin as essentially standing in the way.
❗️ #German Defense Minister Boris Pistorius said that during the meeting in Ramstein they failed to agree on the transfer of Leopard tanks to #Ukraine.

He noted that a decision would be made in the near future and it would depend on Chancellor Olaf Scholz. pic.twitter.com/cF8qhtFAZS

— NEXTA (@nexta_tv) January 20, 2023
"Today, we can all not yet say when a decision will be made about Leopard and what this decision will look like," German Defense Minister Boris Pistorius said at the end of the Ramstein Air Base meeting.
Amid accusations that Germany is waffling and thus weakening Western allies' resolve, Pistorius continued, "We are not really hesitating we are just very carefully balancing all the pros and contra [cons] — we are not talking just about delivering anything to anybody, this is a new kind of measure we would choose, so we have to be careful because we have a duty to look carefully and intensively at what might be the consequences for anybody in that conflict."
While there was agreement to boost military aid to Ukraine among the allies gathered for the meeting, CNBC underscores that "Germany wavered on further EU tank deliveries despite mounting calls from Kyiv and fellow allies."
The German defense minister continued, according to the remarks translated by CNBC:
"I must say there is very clearly no unanimous opinion. The impression that has occasionally been made that there is a closed coalition and Germany stands in the way of this is wrong. There are many allies who say we share the opinion that I explained here today again, there are good reasons for the delivery and there are good reasons against it."
Going into the meeting it was widely reported days ago that Berlin has told European allies that it will authorize Leopard tanks only if Washington first leads the way with supply its own Abrams tanks. But the Biden administration has shut the door on these heavy, advanced tanks for the time being.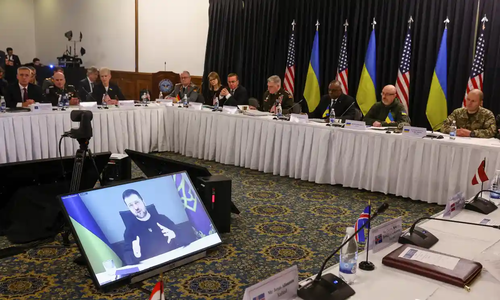 Multiple NATO countries have been on standby after expressing willingness to send the highly sophisticated German-made Leopard tanks to Ukraine, namely, Poland, Denmark and Finland - but Berlin has to sign off on it first.
President Zelensky spoke to the meeting via video link, making an urgent plea for the group to sign off on tanks. Central to this question is German decision-making: 
Ukraine's president has pleaded with Germany and western allies to send their battle tanks to Kyiv, amid speculation that Berlin would allow German-made Leopard 2s to be re-exported by other countries but not necessarily send any of its own stock.

Volodymyr Zelenskiy, speaking via video link at the opening of a meeting of Ukraine-supporting defence ministers from 50 countries in Ramstein, Germany, said it was "in your power" to at least make a decision in principle to send tanks.
Zelensky further argued that "Russia is concentrating its forces, last forces, trying to convince everyone that hatred can be stronger than the world." In typical fashion he made an emotional appeal at one point, also expressing frustration...
#Ramstein
The war started by RF doesn't allow delays.
I can thank you hundreds of times – but hundreds of "thank you" are not hundreds of tanks.
We must speed up! Time must become our common weapon, just like air defense, artillery, armored vehicles & tanks.
The Kremlin must lose pic.twitter.com/wieu6fkMBn

— Володимир Зеленський (@ZelenskyyUa) January 20, 2023
But alas, it seems that for the moment at least, Germany is opting for the more cautious - and we should add saner approach - of not wanting to provoke WW3 by pouring advanced Western tanks into the grinding conflict despite the emotional appeals out of Kiev, also the in face of Kremlin 'red line' warnings. Finally, a rare and rational slow-down in the rush of the past weeks to pour heavier weapons in, which in the case of pulling the trigger on tanks and jets... there would be no turning back.
* * * 
German public opinion is on the side of not escalating confrontation with Russia...
Polling shows most German citizens oppose sending Leopard tanks to Ukraine. Zelensky replies: "Hand them over!" pic.twitter.com/PVS4qgsU5k

— Michael Tracey (@mtracey) January 20, 2023
Tyler Durden
Fri, 01/20/2023 - 10:35